Bringing Indigenous voices to the forefront
In his keynote address at the Hot Docs Film Festival, Indigenous Screen Office director Jesse Wente laid out his goals for the newly launched office.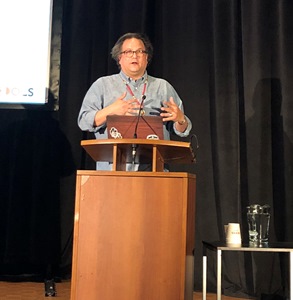 The physical resources that support Canada's new Indigenous Screen Office (ISO) may be modest, but the ideas that drive it are ambitious and large in scale.
That was the message driven home by Jesse Wente, director of the ISO during his Hot Docs Industry keynote presentation on May 1.
Waving his cell phone at the audience and indicating it is the ISO's main "office" at this point, he joked: "We're very mobile and fluid."
Launched in February, the ISO aims to implement a long-term strategy to support Indigenous talent, short- and feature-script development, and television and digital media and training in Canada. The office will also facilitate relationships with broadcasters, distributors, training institutions and federal funders.
The progam has a two-year funding commitment, said Wente, and it's his job to ensure it becomes permanent.
But Wente has another important, overriding goal for his tenure as director of ISO: narrative sovereignty for Indigenous creators in Canada.
"When I talk about narrative sovereignty, what I'm really talking about is the ability of the nations to have some measure of control over the stories that are told about themselves," he said.
Throughout the entire history of filmmaking, the overwhelming majority of stories told about Indigenous peoples – both fictional and documentaries – he said, have been told by non-Indigenous people.
"What those stories have allowed is the dehumanization of Indigenous peoples," he argued.
In his hour-long talk, Wente detailed the importance of narrative sovereignty to nation states around the world. Canada, for example, has a points system to ensure the stories that receive funding are appropriately "Canadian" and tell Canadian stories. He pushed the point by arguing a film about the history of Quebec would never be made by an entirely Anglo team in Toronto. "We've built duplicate systems to prevent that from ever happening," he said. But the same is not true for Indigenous storytellers.
Through legislation like the Potlatch Ban, which was in place from 1884 to 1951, Indigenous peoples were outlawed from performing traditional ceremonies and sharing their stories. And the effects of legislation like this have been long-lasting and far-reaching. As reports like that authored by Marcia Nickerson (which called for the creation of an Indigenous screen office) have long argued, systemic barriers of access and equity for Indigenous creators in the screen industry persist to this day.
Now, he said, through the ISO, Indigenous creators will have an opportunity to tell their own stories.
"This is going to be an independent office that is seeking narrative sovereignty for Indigenous screen storytellers and through that is looking to help Canadian culture evolve," he said.
"I am a firm believer that cultural bodies, institutions, places of higher learning, are not just invested in the commerce of it…they are invested in shifting cultures and shifting the narratives by which nations understand each other."