Hot Docs' march toward gender parity
The festival's team digs into hitting the milestone and pushing the #TimesUp conversation with its programming.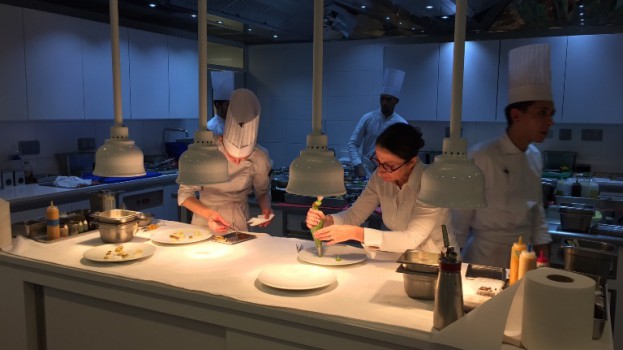 With 262 projects set to screen at Hot Docs 2018, the festival has reached an important milestone to mark its 25th anniversary – gender parity.
Fully 50% of the directors with films at Hot Docs are women. While the Toronto documentary organization has been inching closer to parity in recent years (most recently hitting 48% in 2017), director of programming Shane Smith told Playback Daily that reaching that milestone has been a somewhat organic process.
"We knew it would be a nice achievement if we could get there, but we weren't forcing ourselves to program films we didn't think should be in the festival or we didn't feel were telling the stories that we loved. But as we looked at the work, it just became clear that there was so much great work being done by female filmmakers," said Smith.
Kicking off the fest's opening night in the Special Presentations program is Maya Gallus' The Heat: A Kitchen (R)evolution (pictured), a doc centred on seven female chefs climbing the ranks in the traditionally male-dominated world of the cooking industry. Gallus is no stranger to the fest – the documentary filmmaker was honoured with a retrospective in 2017 and The Heat was named a Hot Docs Ted Rogers Fund recipient earlier in February.
For Smith, Gallus' female-fronted doc was the right project to set the tone for the 2018 festival.
"[The Heat] works as a great culinary documentary, but it also has a social conscience that it brings to the table as well – no pun intended," said Smith, who also called the doc "powerful, smart and intelligent."
While it was an organic process, achieving parity this year sends an important message at a time when the industry is being forced to confront its treatment of women. Given the wave of women who continue to speak up about their experiences with harassment and unequal treatment, Smith noted that the festival saw a surge in the number of submissions addressing those topics.
This prompted the festival's organizers to add the Silence Breakers program, which spotlights "brave women speaking up and being heard." Presented in partnership with Oxfam, the three-pronged program is composed of discussion panels, a shorts section and a lineup of features.
Feature docs in the Silence Breakers program include Margarita Cardenas' Women of the Venezuelan Chaos (France); Primas from director Laura Bari (Canada/Argentia); the world premiere of director Kelly Showker's Slut or Nut: The Diary of a Rape Trial (Canada); director Sarah Menzies' Afghan Cycles (U.S.); the North American premiere of A Thousand Girls Like Me from director Sahra Mosawi (France/Afghanistan); director Irene Lusztig's Yours in Sisterhood (U.S.); and the international premieres of Cynthia Lowen's Netizens (U.S.), Nancy Schwartzman's Roll Red Roll (U.S.), Harriet Hiroshorn's Nothing Without Us: the Women Will End Aids (U.S.) and Norah Shapiro's Time for Ilhan (U.S.).
Hot Docs has also programmed a number of industry events dedicated to highlighting women's voices, including Now What, Documentarians?: Beyond #MeToo; In Conversation events with Barbara Kopple and Cara Mertes, among others.
All told, 52 of 73 industry programming speakers are women, with 18 of 22 sessions moderated by women.
Hot Docs industry programmer, conference and funds, Olena Decock told Playback Daily that the festival's film and industry programming both aim to raise women's voices and spark discussion.
"Programming two conversations – one for the public, one for the industry – regarding issues of power imbalances, sexual violence and the disempowerment of women, is a way to signal that we don't think the work begun by the Silence Breakers is over," she said.
Building on these issues of power imbalance, the festival recently announced Barry Avrich's follow-up Harvey Weinstein doc, The Reckoning: Hollywood's Worst Kept Secret will make its world premiere in the Special Presentations program.
Produced by Melissa Hood, the doc is an update to Avrich's 2010 doc Unauthorized: The Harvey Weinstein Project, which examined the producer's career. In contrast, The Reckoning begins with Weinstein heading to rehab, as well as documenting events taking place in the aftermath of the allegations made against him.
Smith says Hot Docs knew Avrich was working on the project and that as soon as they heard it was ready, they pounced on the opportunity to add it to the 2018 lineup.
"I think it's part of the effort to make sure that conversation doesn't go away – that these discussions don't disappear," he said.
Thinking ahead to next year, Smith reiterated that the festival will continue to seek out diverse voices with unique stories from around the world.
"Over half of our audience is female, and we intend to continue to bring our audience the best female-directed documentaries being made today. We will continue to ask sales agents and distributors for female-directed documentaries, and Hot Docs will continue to focus on supporting diverse voices through our training and funding programs," he said.
Hot Docs runs from April 26 to May 6.