White Pine, Ballinran partner with Chinese media co on doc slate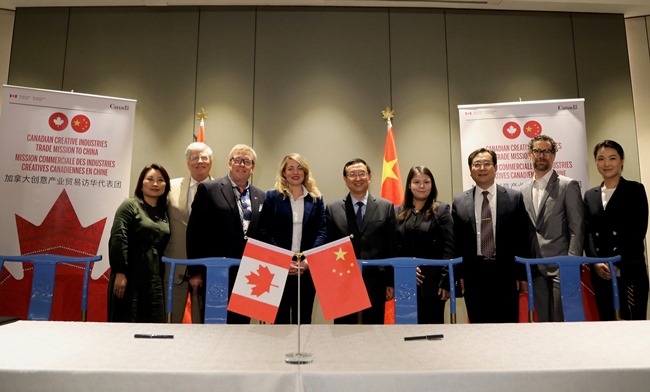 The Canadian prodcos signed a memorandum of understanding with CTV Golden Bridge International Media Group during Canada's trade mission to China.
Toronto's White Pine Pictures and Stratford, ON-based Ballinran Entertainment have signed a memorandum of understanding with China's CTV Golden Bridge International Media Group to jointly develop a slate of documentary projects over the coming years.
First up is a doc on the creation of Cirque du Soleil's upcoming show, which will be unveiled in Hangzhou, China in 2019. The doc will be directed by Canadian filmmaker and former Rhombus Media founding partner Barbara Willis Sweete, who previously directed performing arts productions such as The Metropolitan Opera HD Live. 
Also in the works is a China/Canada travel exploration series that will shoot in Canadian and Chinese cities that have been officially twinned (Ottawa and Beijing, for example). While no directors have yet joined the project, the first season will consist of 12 x 45-minute episodes.
The documentary projects will be developed for both the Canadian and Chinese markets, as well as international platforms.
The agreement was announced during Canadian Heritage's first-ever creative industries trade mission to China. It was witnessed by Minister of Canadian Heritage Melanie Joly, her Chinese counterpart Mr. Luo Shugang, Minister of Culture and Tourism and Jonathan Tétrault, president and COO of Cirque du Soleil.
"This creative collaboration reflects China's desire to boost the quality and appeal of their documentary entertainment output by developing projects that appeal to audiences both in China and around the world," said Craig Thompson, president of Ballinran, in a release.
"The relationship with Golden Bridge developed as a result of a chance encounter at Hot Docs in 2017 that led to an initial meeting at our offices in Toronto," added Peter Raymont, president of White Pine Pictures.  "It demonstrates the importance of events like Hot Docs in facilitating international partnerships, which are now essential to creating successful and entertaining programming."
The deal with Golden Bridge was facilitated by Wei Hu of Ballinran Entertainment.
Photo (L to R:) Wei Hu, Consulting Producer, Ballinran Entertainment; Peter Raymont, President, White Pine Pictures; Craig Thompson, President, Ballinran Entertainment; Hon. Melanie Joly, Minister of Canadian Heritage; His Excellency Luo Shugang, Minister of Culture and Tourism, People's Republic of China; Lynette Zhang, Deputy Director and Chen Xin, Chairman, CTV Golden Bridge International Media Group; Jonathan Tétrault, President and Chief Operating Officer, Cirque du Soleil; and Zhiyi Liu, General Manager, CTV Golden Bridge International Media Group.