Inside Out expands its scope with key funding partnerships
The LGBTQ film festival recently became a designated partner of Telefilm's Talent to Watch program and has plans to build out its fledgling finance forum.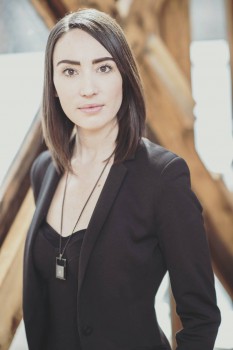 With a recently announced partnership with Telefilm's Talent to Watch program, and plans to expand its fledgling finance forum, Inside Out LGBT Festival exec director Andria Wilson (pictured) says the organization is making definitive strides in creating more business opportunities for the community it represents.
Last month, Inside Out became the only LGBTQ film festival to be a designated partner of the Talent to Watch program (formerly the micro-budget program). Through the partnership, Inside Out is able to recommend projects through Telefilm's Selective Stream for funding of up to $125,000. Other festivals that are designated partners of the program include Caribbean Tales, Female Eye Film Festival and Reel Asian International Film Festival.
It's a significant breakthrough for the festival and the projects it supports, according to Wilson. "It's absolutely a game-changer," she told Playback Daily. "For events like Inside Out, which may in the past have been considered specialty or niche, it's really important for us because it is making it clear that we're here to serve our LGBTQ community, but we're also here to do business and to create direct financing opportunities for LGBTQ filmmakers."
For Wilson, the change is indicative of a gradual transition in the film and TV industry. "The larger conversations that are happening in the industry around representation, inclusion and gender diversity have created a space where many funders are more receptive to the kinds of issues that we're talking about," she said.
In addition, the festival has also secured funding through Telefilm's Promotion Program, allowing it to expand the scope of its industry programming for 2018. Last year, Inside Out launched its first financing forum – a one-day, B2B-focused event geared toward giving producers the opportunity to pitch projects to Canadian and international executives. The initiative is sponsored by the OMDC and CMPA and modeled on the OMDC's International Financing Forum. 
Wayne Burns and Denis Theriault's Chasers, Karen Harnisch and Phil Connell's Jump, Glen Wood's Down Low, Alex Lampsos' Breaking Fast and Sarah Rotella and Adrianna DiLonardo's Light Years were among the projects chosen for last year's forum. A number of those titles have moved forward following their inclusion in the forum, according to Wilson, with Light Years in development with the CFC's 2018 Telefilm Comedy Exchange Program and Breaking Fast slated to go to camera later this year.

This year, the financing forum is adding a second day focused on professional development and training for LGBTQ-identified producers and producers creating LGBTQ content.  The new forum programming will include consulting and mentorship sessions for the producer participants, as well as a focus on helping emerging producers to polish their pitches. As well, the conference will add sessions on the practical realities of financing LGBTQ films, both in Canada and in international markets.
The festival is also this week launching a new fund, Inside Out RE:Focus Fund, aimed at providing direct financial support to LGBTQ women and non-binary filmmakers. The $25,000 fund – backed by Martha McCain, daughter of the late Wallace McCain, co-founder of McCain Foods – will be allocated to: bursaries for LGBTQ women and non-binary filmmakers to attend Inside Out's Toronto festival and participate in networking and programming opportunities; funding for professional development programs designed to support LGBTQ women and non-binary filmmakers; and grants for LGBTQ women and non-binary filmmakers to start, finish, or close the gap on their film projects.
Going forward, Wilson said the festival, which celebrates its 30th anniversary in 2020, will continue to "address inequities in our industry and provide necessary points of intervention. Supporting the voices of queer and trans women and non-binary people with direct financial assistance is a critical next step in this mission."
The Inside Out LGBT Film Festival runs from May 24 to June 2.