Canadian projects pick up 34 Rockie Award noms
Travelers, Schitt's Creek and How to Buy a Baby are among the series up for some hardware at the Banff World Media Festival program competition.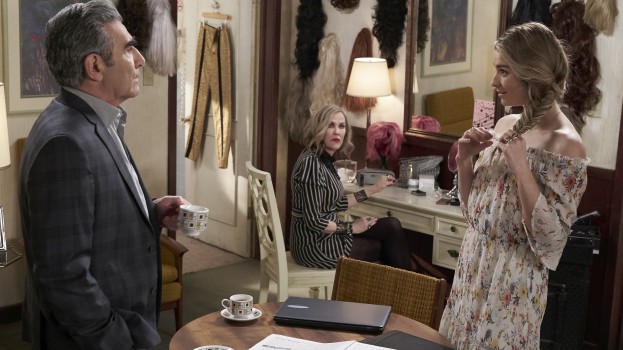 Canadian projects have racked up 34 nominations for the 2018 Rockie Awards.
The Banff World Media Festival today unveiled the nominees for its annual program competition, which recognizes excellence in TV and digital content from around the world. More than 45 countries submitted projects to this year's competition, with winners set to be announced June 11 at a ceremony during the festival in Banff, AB.
The nominees were selected by a jury of 115 international industry professionals. All told, prizes will be handed out in 26 categories, including documentary and factual, arts and entertainment, children and youth, and scripted.
In the Scripted stream, three Canadian projects are up for best sci-fi, fantasy or action series. Peacock Alley's Travelers received a nod, as did Seven 24 Films' Wynonna Earp and Aetios Productions' Blue Moon. Aetios also secured a nom for Unite 9 in the Melodrama category, the only Canadian production represented in the category.
In the Comedy Series: English Language category, Thunderbird Entertainment's Kim's Convenience will compete against Not A Real Company's Schitt's Creek (pictured). Meanwhile, in the Comedy Series: Non-English Language category, Sphere Media Plus' Trop (Too Much) is up against Encore Télévision – Distribution's Lâcher prise (Freefall).  In the Drama Series: Non-English Language category, Productions KOTV's Plan B is up against Canuck project True North (Sovimage & Encore Télévision).
Two Canadian projects are up for best Digital Fiction Series: LoCo Motion Pictures' and Fertilifun Productions' How to Buy a Baby and Artaban Productions and Telus Originals' Android Employed.
Turning to the Arts and Entertainment stream, Canadian projects dominated the Interactive Content category, nabbing four of five nominations. The NFB's Blind Vaysha will compete against Wild Canadian Year (Secret Location/River Road Films/CBC/Bell Fund), Horizon (SESQUI Inc/Heritage Canada/Province of Ontario) and Home to Win Digital Strategy (Stitch Media/Architect Films/Corus Entertainment/Bell Fund). Rounding out the category is France's Bury me, my Love (ARTE France/The Pixel Hunt/Figs).
Three homegrown productions will vie for best lifestyle program, including Employable Me (Employable Me Productions/Accessible Media), Gusto Worldwide's Fish the Dish, and Vice Studio Canada's It's Suppertime!
Meanwhile, Interrupt this Program (Noble Television/Productions Emergent II/Story Park) and Frantic Films' Still Standing were nominated in the Music, Performance, Arts & Variety Program category.
Turning to the Children and Youth stream, three Canadian series are up for best non-fiction series. HeartHat Entertainment's CANAdooDAday, 9 Story Media Group and Brown Bag Films' Furze World Wonders and Sinking Ship's Giver were all recognized. Meanwhile, in the Fiction category, Radical Sheep/Boat Rocker Studios' The Next Step was the only Canadian series to receive a nomination.
In the Interactive Content category, Frima Studio and Groupe Media TFO's MaXi Comics Creator will compete against fellow homegrown projects Santa Tracker (zone·tv), and www.opieshome.tv (marblemedia/TVOKids). Lastly, Imagine Create Media's Daisy and the Gumboot Kids for CBC Kids was nominated for best preschool program.
Canadian productions also picked up noms in the Documentary & Factual stream. Renewable (Sticks & Stones / The City of Edmonton) will compete in the Digital Non-fiction Series category; L.A. Burning: The Riots 25 Years Later, a Canada/U.S. project from Creature Films and eOne, is up for best History and Biography program; Sled Dogs, from CCI Entertainment and Slater Brody Productions is nominated in the Environmental & Wildlife Program category; The Nature of Things (Yap Films/CBC), nabbed a best Science and Technology Program nom; and Productions Déferlantes' BYE is nominated in the Societal and Current Affairs Program category.