marblemedia teams up with Megan Follows for new web series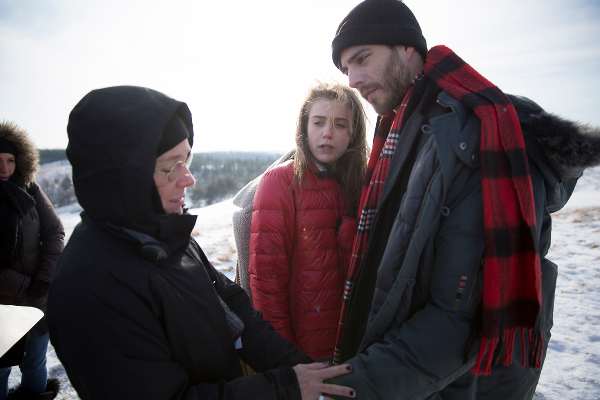 The Toronto prodco has enlisted the Canadian acting icon to direct its upcoming scripted drama Held.
Toronto's marblemedia has enlisted Canadian acting royalty Megan Follows to direct the prodco's gritty new web series, Held.
Written by Cardinal's Alison Lea Bingeman, who serves as an exec producer on the series, Held (8 x 8 minutes) is based on Canadian author Edeet Ravel's novel of the same name and follows the psychological breakdown of a kidnapped woman who eventually develops feelings for her captor.
Although marblemedia is known for its kids and family content, with shows like Just Like Mom and Dad and Splatalot, the prodco has been building its scripted division for some time, with a number of projects currently in development. Held marks the prodco's first steps in its expansion into premium scripted content.
Megan Follows joined the project after meeting Bingeman at a party, where the two discussed the drama's complex storylines and female protagonist's psychological struggle.
"I'm glad that this piece is in the hands of females, [the story] has to be handled with a certain understanding and delicacy," Follows told Playback Daily. "It's about something very dark."
Best known for playing the lead role in the 1985 Anne of Green Gables miniseries and for her nearly 40 years of acting work, Follows has slowly been adding directing credits to her resume in recent years. She has directed three episodes of Reign, on which she starred, as well as two episodes of Murdoch Mysteries. She told Playback Daily that directing is a passion for her, noting however, that the web series format is "a new world for her."
Follows not only brings a big name to the project, but for Matt Hornburg, co-CEO and exec producer at marblemedia, she also brought a strong creative direction.
"Our collective first meeting with Megan was impressive – she was prepared, she had a clear vision and she had intriguing ideas for how to represent the oppressive nature of captivity versus the surprising choice that the character makes upon her release," said Hornburg.
Although the book was geared towards a young adult crowd, the creative team has changed it up a bit by aging up the protagonists and including a storyline that picks up where the book left off.
"We've worked hard to build a sophisticated story treatment that is suited to an adult audience," said Hornburg referring to Held's target audience of adults aged 18 to 34. The series stars Alanna Bale (Cardinal) and Kristopher Turner (Saving Hope).
So far, with the help of funding from COGECO, the team has written three scripts and filmed Held's teaser trailer. To complete its financing, the team has applied for funding through the Independent Production Fund (IPF). The series is expected to go into production in fall 2018.
Exec producers on Held are Carrie Paupst Shaughnessy, Mark Bishop and Matthew Hornburg. Luc Montpellier serves as director of photography, while Shaun Rykiss is editor and Suzan Mazur line produced. Music was composed by Thomas Ryder Payne.
L to R: Megan Follows, Alanna Bale and Kristopher Turner.