Deals: Portfolio, Cineflix, DHX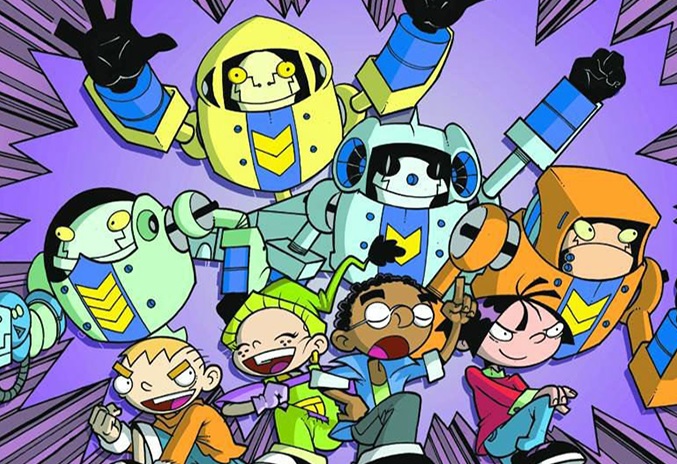 Portfolio has inked a deal with Blue Dream Studios founder Scott Christian Sava to adapt his all-ages graphic novel, Pet Robots, into an animated TV series, plus more.
Portfolio Entertainment
Toronto's Portfolio Entertainment (The Cat in the Hat Knows A Lot About That!) has secured a deal with Blue Dream Studios founder Scott Christian Sava to adapt his all-ages graphic novel, Pet Robots (pictured), into an animated TV series for six- to nine-year-olds. The agreement gives Portfolio worldwide distribution, licensing and merchandising rights to the comedy series. Pet Robots tells the story of four students who wander off while on a field trip and accidentally activate a group of high-tech robots. The bots follow the kids home and soon they must team up to save the world. Sava recently wrote and directed 3D-animated feature film Animal Crackers, which will premiere this summer featuring the voice talents of John Krasinski, Emily Blunt, Ian McKellen, Danny DeVito and Sylvester Stallone.
Cineflix Rights
Cineflix Media's U.K.-based distribution arm Cineflix Rights has presold Cineflix Productions' climate-focused series Sinking Cities to a number of European broadcasters. Slated for its U.S. premiere later this year, Sinking Cities has been picked up in multiple territories across Europe following the pre-sales to Discovery Europe and RMC Découverte France. Cineflix Rights will launch the show at next month's MIPTV market in Cannes. Sinking Cities (4 x 60 minutes) follows local planners, first-responders, scientists and engineers in different coastal cities around the world as they gear up to battle climate change. The Discovery Europe deal was closed by Cineflix's Sandra Piha, while Sabrina Ayala handled the RMC Découverte sale.
DHX Media
London, U.K.-based Bloomsbury Children's Publishing has signed on as publishing partner for The Deep, following a deal brokered by the IP's licensing agent, DHX Media-owned CPLG. Bloomsbury will produce young fiction, official handbooks and activity-based books, with the first titles set to be released in August. Currently airing in more than 130 global markets, The Deep was originally optioned by Nekton Productions and is based on the graphic novel series of the same name by DC Comics author Tom Taylor (Injustice: Gods Among Us) and artist James Brouwer (Justice League Beyond). The Deep's original comics were published by Wolfgang Bylsma and Skye Ogden's Gestlalt Comics. Australia's ABC Me recently greenlit a third season of The Deep from co-producers DHX Media, A Stark Production and Technicolor. Comprised of 13 half-hour episodes, season three will also be available on Netflix worldwide, and on DHX Media's Family CHRGD in Canada.
With files from Liz Foster and Alexandra Whyte, Kidscreen