Read the comments (and other secrets to Tasty's success)
Buzzfeed's Leigh Riemer shared atypical advice with Atomicon attendees looking to build online audiences.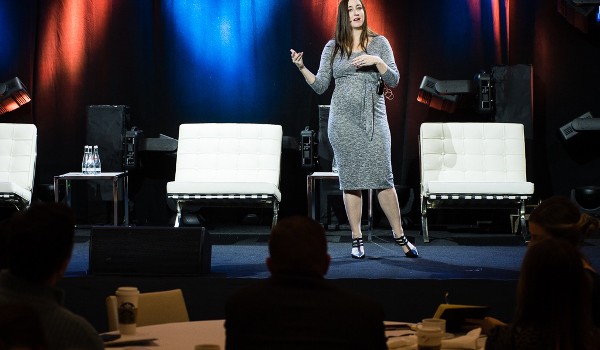 We're all familiar with the tried and tested internet advice "don't read the comments." But Leigh Riemer, in her keynote address at Wednesday's Atomicon conference, said taking in all the comments on Buzzfeed's food brand, Tasty, is exactly what's helped it grow as a media property by increasing its revenue opportunities.
Tasty produces more than 600 pieces of content per day across numerous platforms, although its main output is its famous top-down, time-lapsed cooking videos that are native to Facebook (where it boasts approximately 93 million likes on its page).
Most of Tasty's revenue comes from brand integrations, with additional income from YouTube pre-roll (it currently has 6.5 million subscribers on the platform) and a new line of physical products such as its recent cookbook (released in December 2017) or its line of kitchen products produced in collaboration with Walmart (available only in the U.S.).
The brand wouldn't have gotten to its current scale if it had followed the tried-and-tested paths of audience building. For starters, she says, start reading the comments.
Numbers are great, comments are better
Riemer said Tasty's direction has mostly been shaped by the actual comments people have left, as well as by actively seeking out responses through things like surveys. In her presentation, she focused less on metrics of views and shares.
"In social, a lot of business has been built on shares," she said. "It's not that I'm not interested in shares, but they largely mean a blanket share." She sees the spreading of Tasty's content as "re-defining shares" to a more user-to-user approach. "The most common thing we see is [a viewer] tagging someone in the comments, because, 'oh, you would like this.' And it does rank high on the algorithm."
She said viewer comments and feedback – none of which Buzzfeed moderates or responds directly to – have also helped Buzzfeed shape Tasty's creative direction. "When we got comments that a lot of our stuff was not so healthy, maybe a little too much cheese, we launched Goodful," she said, referring to Tasty's health-focused sub brand.
It's also launched other sub brands and different market iterations such as Tasty Kids, Tasty Vegetarian, the British-themed Proper Tasty and Tasty Japan. Riemer said "emotional" responses were the key to shaping those brands. Comments such as "this reminds me of a dish my Grandma used to make" or "this reminds me of when I was a kid" have helped Tasty hone in on a more geared-to-the-viewers strategy, she said.
Proactive data might be overrated
When Tasty began three years ago, Riemer said the team wasn't even sure what it was going to be. "We knew we wanted it to be video, and that was about it," she said. It wasn't until after food videos got a strong response that the team jumped on the format in earnest. She said that pattern has been consistent for Tasty – waiting patiently for feedback rather than trying to identify the "next big thing" and going full force.
"It was a bit reactive, which is not typical," she said. "We looked at where the audiences were and we built there… [where] audiences are organically engaging with our content."
Think like a brand
Initially, Tasty thought of itself like a media network rather than a brand, she said. But now, thinking like a brand has helped it achieve better ROI than simply thinking about scale and reach.
"Anyone can buy scale," Riemer said, but observing repeat behaviour from brand loyalists has led Tasty to far more successes.
For example, when viewers said they're interested in tech that makes cooking easier, Tasty developed the Tasty One-Touch, a single-element burner that is controlled and timed through smartphones. "We wouldn't have known to do that because we started as a network," she said. Instead of thinking of how to engage with more people, Riemer said, it thought of ways to build on relationships it already had.
Demographics aren't the most important thing
Some demographics lack an emotional touch, said Riemer. "I'm becoming less interested in demographic data," she told the audience. Instead, she wants to know what resonates with people culturally. That way, she said, "I can have an emotional relationship versus a practical one."
She said understanding what other areas followers are interested in and learning their personal values gives Tasty more information than knowing age, gender, location or whether or not they have children.
Trends are worth trying
Sometimes a risk in content pays off, said Riemer. And if it doesn't, it can be surprisingly easy to walk away from. When Buzzfeed began to notice the trend of "sheet pan baking" (cooking all the elements of your meal on a single pan at the same temperature in order to save time and space), it began investing in those kinds of recipes. "We capitalized on it… but what's cool about trends is that if it doesn't become a thing, it doesn't matter. People don't know that we were trying to make that a trend. We use it quickly and if we fail quickly, that's fine."
Atomicon is hosted by strategy and Playback.
From Media in Canada