Cameras roll on Daughter of The Wolf
The action thriller from Minds Eye Entertainment, L.A.-based Falconer Pictures and VMI Worldwide stars Richard Dreyfuss and Gina Carano.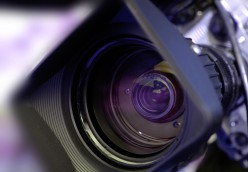 Production is underway in Kelowna B.C. on Daughter of the Wolf, from Minds Eye Entertainment, Los Angeles-based VMI Worldwide and Falconer Pictures.
Directed by David Hackl (Saw V) and written by Nika Agiashvili (Tbilisi, I Love You), the thriller follows an ex-military specialist who returns home to find she has inherited a large sum of money following her father's death, which leads a local gang to kidnap her son for ransom.
Richard Dreyfuss (Mr. Holland's Opus), Gina Carano (Haywire), Brendan Fehr (Final Destination), Anton Gillis-Adelman (Designated Survivor) and Sydelle Noel (Black Panther) star.
Minds Eye International and QME Entertainment have North American distribution rights to the film, while VMI Worldwide holds international rights.
Daughter of the Wolf is the third partnership between Minds Eye and QME, which have previously collaborated on The Humanity Bureau and the upcoming Distorted. It is also the third film in a six-picture production deal between VMI and Minds Eye.
Producers on the project are Minds Eye's Kevin Dewalt (Forsaken, The Tall Man), Danielle Masters (Forsaken, Wolfcop) and Benjamin Dewalt (The Recall, The Humanity Bureau), alongside Falconer Pictures' Doug Falconer (The Warrior's Way, Forsaken). VMI Worldwide produce in association with Calgary-based independent investment firm Invico Capital and London, U.K.-based The Fyzz Facility.
Exec producers are Andre Relis, Jason Brooks, Allison Taylor, Wayne Marc Godfrey, Robert Jones, Robert Bricker, Marcel Leblanc, Charles Saikaley, Tamer Abaza, Craig Baumgarten, Berry Meyerowitz, Nika Agiashvili and David Hackl.
Daughter of the Wolf is produced with the financial participation from Creative Saskatchewan, the ScreenBased Media Production Grant, the Province of British Columbia Production Services Tax Credit and the Canadian Film Or Video Production Tax Credit.
Image: Shutterstock