CFF '18: The Drawer Boy, Luba score top prizes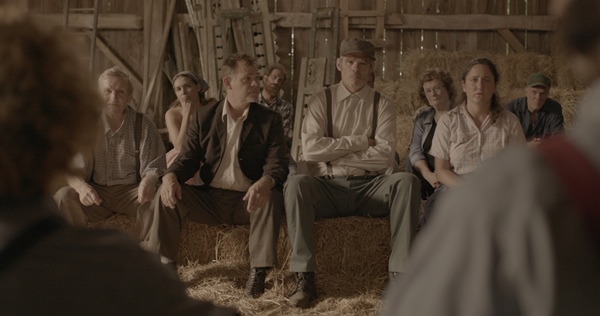 Meanwhile, Kathleen Hepburn's "Honor Thy Mother" won the Harold Greenberg Screenplay Competition.
The Drawer Boy from directors Arturo Perez Torres and Aviva Armour-Ostroff emerged as one of the big winners on March 24 at the 12th edition of the Canadian Film Fest (CFF).
The Canadian Film Fest, which took place March 20 to 24 at Scotiabank Theatre in Toronto, showcased 10 features and 20 shorts, with nearly 50% from female directors.
Perez Torres and Armour-Ostroff's The Drawer Boy picked up the fest's award for best feature, along with a $3,000 prize from Dazmo Camera. The film follows a young theatre actor from Toronto who stays with two aging bachelor farmers and tries to make their stories into a play.
Meanwhile, Caley Wilson's Luba won the People's Pick for Best Flick, as well as the William F. White Reel Canadian Indie award, which includes a $5,000 gift certificate. The film follows a woman fighting for her family's survival.
The DGC Best Director Award went to directors Kris Booth, Jordan Canning and Renuka Jeyapalan for their Ordinary Days. The drama is told from three perspectives and centres on the disappearance of a female college student.
Meanwhile, Game from writer/director/editor Joy Webster took home two honours at this year's fest. The film won best short and its star Jack Fulton took home the jury award for best actor in a short. The film follows a young boy as he struggles to accept his mother's death.
Other winners include Matthew Atkinson's Room For Rent, which picked up the Canadian Film Fest Jury Award for best feature, while its production designer Gordon Wilding took home the best set design prize.
The fest's jury included actress Grace Lynn Kung and directors Molly McGlynn and Navin Ramaswaran.
For best short, the jury selected Breathing Through a Straw from director Leigh Rivenbark. Best ensemble went to Jon E. Cohen's A Swingers Weekend, while the special jury prize was awarded to Sherren Lee's The Things You Think I'm Thinking.
The grand prize winner of the CFF Harold Greenberg Script Competition was "Honor Thy Mother" from Never Steady, Never Still director Kathleen Hepburn, from a story by Charlie Hidalgo. Hepburn nabbed $10,000 in development funding, a pass to the Toronto Screenwriting Conference in June and will have a Harold Greenberg executive provide feedback on the script as well as guidance through one development round.
In second place, "Hard Promises" from Christopher Smets also received a pass to the Toronto Screenwriting Competition.
The CFF Harold Greenberg Script Competition is open to Canadian screenwriters who've written a feature-length screenplay and are looking for financial support.
Photo: Cabot McNenly