The unusual suspect: Carolle Brabant
From Playback magazine: A look back at the career, challenges and achievements of Telefilm's exiting executive director.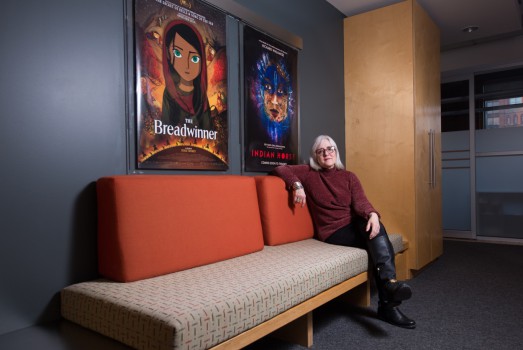 Fiona Morrow 
Carolle Brabant retires this month after 28 years at Telefilm,  a career that began when she took a job in the accounting department in 1990. Executive director for the past eight years, Brabant was the first woman to hold the role permanently. Under her leadership, the organization oversaw the redefinition of what constitutes a successful Canadian film, initiatives to open up pathways to entry for emerging filmmakers and a commitment to gender parity across Telefilm-funded projects.
Born and bred in Montreal, Brabant came to her career late, spending the 10 years after high school in small jobs. "I worked in a bank, in a movie theatre…I really didn't have a clear direction," she says. Many of her friends were artistic and it took her a long time to realize that, although she loved the arts, she wasn't an artist herself. "I went to university and I had a revelation," she says. "I loved administration, and I was good at it." She studied accounting and began working, with a view to study for an MBA and move into teaching.
"I saw this position at Telefilm advertised, and I thought that if I was going to spend my time auditing a business, I'd rather it was film and not construction materials," she says. She never left. "So many opportunities came my way, and I worked with many, many wonderful people. Then one day I looked up and I had been here my entire career."
When Niv Fichman, founding partner of Rhombus Media, first met Brabant she was the "scary person coming to audit our books." It was the early 1990s and, Fichman notes, their relationship was necessarily at arm's length: "You don't really want to hang out with the person who is scouring your accounts looking for errors," he laughs. "Which, for the record, there weren't."
By 2003, Brabant was director of finance and, in 2004 stepped up as acting ED between Richard Stursberg and Wayne Clarkson. When she formally took over the position in 2010 from Clarkson, few anticipated Brabant would turn out to be the longest-serving executive director in the organization's history. Her predecessors' legacies were given short shrift: a 2010 article in the Globe and Mail said Stursberg (who was ousted from the CBC five years after leaving Telefilm) was "widely perceived" as a bully who meddled too much, and Clarkson, "a gentler soul" who "got nothing done." The job itself was cast as "a thankless task."
Unsurprisingly, Brabant's appointment wasn't hailed with unparalleled enthusiasm from the industry. Instead many were apprehensive that the government funding arm of the film and television industry would be helmed by an administrator with no production experience.
But, five years later, when the newly elected Liberal government called for all Conservative-appointed crown corporation heads to step down and reapply for their positions, the industry backed Brabant. More than two dozen industry heavyweights, including Denys Arcand and Don Carmody, signed an open letter of support, denouncing the call for her resignation and demanding she be kept in place. Not only did Brabant remain in her post, the spirited defense displayed an undeniable confidence in and respect for her leadership.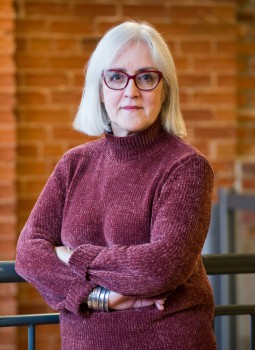 Brabant admits her appointment in 2010 raised some eyebrows. "I wasn't the usual suspect, it's true. But I was also relieved of some of the usual pressures placed on executive directors with a production background," she says. "From the beginning, the industry gave me their trust."
She was a clean slate – her lack of production background gave her license to ask questions. "I was allowed to consult with the industry, to take the time to listen to what they thought. They were generous in these conversations, helping me understand better what we needed to do."
What she found was a sector that wanted more autonomy in decision-making and how they spent their budgets. "I saw a mature industry ready for Telefilm to relinquish some control over what projects are made, and also ready for the flipside of that – more accountability." This was work Brabant understood. "Breaking down red tape and instituting more objectivity into our funding processes was something I felt strongly about, and knew I could implement."
Her first major initiative was to review how Telefilm assessed a film's performance. Under Stursberg, the goal was all about bums on seats: movies that produced boffo Canadian box office receipts would ensure a quicker path to funding for their producers' next projects. Quite apart from the obvious problems with conflating popularity and quality, the system didn't take into account money recouped from post-theatrical or international sales. It was a system that privileged movie making by numbers over artistic ambition and Brabant, a Quebecois for whom culture had always been a vital part of Canadian life, was quick to act.
The Success Index was introduced in November 2011, and calculated the performance of a film from an equation that was 60% commercial, divided between home box office (40%), non-theatrical sales (10%) and international sales; 30% cultural, with a focus on film festival screenings and awards; and 10% industrial, acknowledging a production company's ability to raise private financing.
There was some initial resistance to the changes, Brabant says. "There was a perception that raw box office was a more objective measurement. But the key change of the Success Index was bringing objectivity in gauging the capacity of production companies to finance a film, the capacity to be recognized internationally."
Fichman gives a practical example. In 2008 Rhombus released two films: Paul Gross' WWI drama Passchendaele and Fernando Meirelles' Blindness. The former took $4.5 million at the box office (Telefilm put in $4 million of its $20 million budget); the latter not only opened the Cannes Film Festival that year, it was pre-sold to 42 territories (Telefilm recouped its $2.5 million investment before the film even opened), but took in less than $1 million at the domestic box office. Under the previous system, Passchendaele would have been considered more successful.
Brabant followed up on the Success Index with an initiative designed to help emerging Canadian filmmakers. The annual $1 million Micro-Budget Production Program was launched in 2012 and offered up to $120,000 to filmmakers for digital projects with a budget of less than $250,000.
"We realized it was important to give emerging talent the room to make mistakes," explains Brabant. "We wanted to remove the pressure to succeed immediately at the box office."
A project of which she says she is "immensely proud," the Micro-Budget fund has so far invested in 73 projects that, between them, have garnered 90 international prizes.
Sonia Boileau says this lower risk approach was essential to getting her debut feature Le Dep made. "I had been working in television for a long time and it was almost impossible for me to get my foot in the film door," says the Quebec-based Mohawk director. "It really did feel like an old boys' club." The Micro-Budget program pushed the door wide open. Le Dep (which Telefilm put a total of $125,000 into) had its world premiere at the Karlovy Vary International Film Festival, won a best actress award for Eve Ringuette at San Francisco's American Indian Film Festival and picked up the Cynthia Lickers-Sage award for emerging talent at ImagineNative Film + Media Arts Festival.
Boileau met Brabant at the film's 2015 premiere and they quickly became friends. "Carolle really championed the film, and myself as a filmmaker," she says. "As an Indigenous woman, being championed is not something I have often experienced. But when you have Telefilm right behind you, you really believe that you can do this." Telefilm is also partly funding Boileau's second feature, Rustic Oracle.
Still, the Micro-Budget Program – which accounts for around just 1% of Telefilm's annual budget – didn't go far enough for some. Most vocal in his displeasure was Toronto-based director Matthew Johnson (The Dirties, Operation Avalanche), who argued in 2015 that Telefilm was in the business of handing out money to a few big-name Canadian filmmakers just for showing up, leaving everyone else to fight over the crumbs.
Rhombus' Fichman approached Johnson and his production partner Matthew Miller and asked them to come up with a framework they thought could make real change in supporting emerging filmmakers. In return, Fichman would broker a meeting with Brabant.
Miller and Johnson proposed each year, 50 films from new talent receive $125,000. To their astonishment, Brabant approved. She then stunned all three filmmakers by upping the deal with the new Fast Pass program, which would automatically award funding if a debut feature was an obvious success.
"If your first film has been selected for Cannes or Sundance, isn't that something we should recognize?" Brabant says. "Shouldn't we not just allow you to make a second film, but also have that second project fast-tracked?"
The Micro-Budget fund was restructured and re-launched as Talent To Watch in November 2017.
If she is most proud of Talent To Watch, Brabant is also invested in the gender parity targets Telefilm set. Again, her instinct was to gather a consensus – this time across several industry organizations and unions – before constructing a five-point plan, which was issued in November 2016. One immediate action taken was to review the way projects are assessed for funding, and to be clear that, when faced with proposals of equal merit, Telefilm would favour projects written or directed by women.
"We needed to become a place where women are clear that their films are valued, and that Telefilm is interested in them," she says, adding the funder is also mindful of its code of conduct in light of the #MeToo movement, and making sure industry members are fully trained and conversant in best practice. She chose to stay mum, however, on the specific ways in which the funder will be making a change, adding a collective statement from Telefilm and its partners addressing this issue will be released soon.
"We see brave women who just want this behaviour to stop. It's important that we create space in order that victims should not be afraid of denouncing their abusers."
Brabant admits there is some way to go if Telefilm is to hit its gender parity target by 2020 (on bigger budget projects, especially), but there is a definite shift underway. It's a file she plans to keep "a close eye on" from the comfort of retirement.
"It is a tough one to resolve because the agency depends on what the industry produces and [Telefilm's] contribution is only part of the package on any Canadian film," says Kate Taylor, film critic and arts columnist at the Globe and Mail. "I do think Telefilm is making some progress on that one, which is good to see."
Less clear is how the organization plans to hit its wider diversity goals, only described as a portfolio that "better reflects gender, diversity and Canada's Indigenous communities."
"Canada is diverse. That should be reflected on and behind our screens," Brabant says, noting the file is ongoing and a team at Telefilm will continue to work on it after she leaves. "We are hoping to produce measurable goals soon, but it is complicated."
Her successor, she says, needs to be ambitious: "We need to dream big."
Taylor says it remains "a tough assignment. Telefilm needs not only an ambidextrous  administrator, but also someone who can be a passionate advocate for Canadian film on both the Quebec and English-language sides."
Fichman hopes whoever gets the job will be as open to keeping up a dialogue with industry members as Brabant.
"Carolle completely blew any fears I had about her leadership out of the water," he says. "As an industry, we were used to being asked what we thought needed to change, and then nothing happened. Here was someone who took our concerns to heart, and then acted on them."
Photo credit: Matt Forsythe
This story appears in the Spring 2018 issue of Playback magazine