Deals: CBC, Air Bud Entertainment, CTV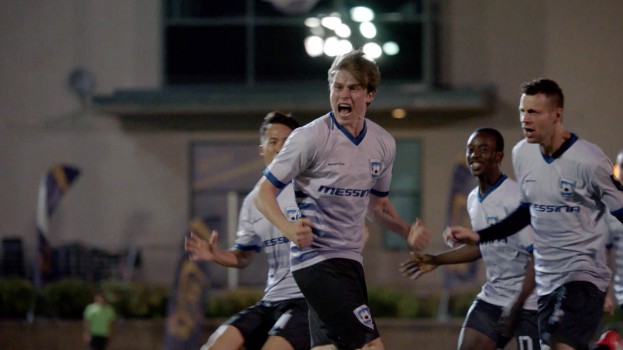 Netflix has acquired the worldwide distribution rights to CBC's original soccer drama, 21 Thunder, plus more.
CBC
Netflix has picked up the worldwide distribution rights (excluding Canada) to CBC's original soccer drama, 21 Thunder (pictured). Produced by Montreal's PMA Productions and Toronto-based Generic Productions, the one-hour drama follows the star players of a Montreal under-21 team on and off the field. The series launched on the global streamer on March 1. Malcolm MacRury (Republic of Doyle, Saving Hope) serves as showrunner and exec producer on the series. 21 Thunder was co-created by Kenneth Hirsch (Extraordinary Canadians), Riley Adams (Flashpoint) and Adrian Wills (The Surrogacy Trap). All three are also exec producers, along with Michael Levine (Republic of Doyle). Stephanie Bennett (The Romeo Section) stars with former Scottish footballer Ryan Pierce, RJ Fetherstonhaugh (Wayward Pines), Emmanuel Kabongo (Hemlock Grove), Andres Joseph (The Flash) and Conrad Pla (19-2). The scripted series was shot in Montreal in the summer and fall of 2016.
Air Bud Entertainment
Vancouver's Air Bud Entertainment has inked an exclusive licensing deal with China's online video platform, iQiYi. The three-year deal with Air Bud Entertainment, known for its family-friendly talking-animal films, includes SVOD, TVOD, traditional TV rights and theatrical distribution of the prodco's films. The agreement also includes all licensing and merchandising rights in China for the company's brands, in addition to its consumer and gaming properties. Content under the agreement includes all branded content, including films the prodco created with Disney (Air Bud and Disney's Air Buddies), its MVP franchise and four new Pup Star films recently produced for Netflix. iQiYi is planning a wide theatrical release for Pup Star in China in March 2018.  Meanwhile, Air Bud Entertainment is currently working on two new additions to the franchise, Pup Star: World Tour and Pup Star: A Pup Star Christmas, set to release in 2018 in the U.S.
CTV
CTV has acquired FremantleMedia International's American Idol to anchor CTV Two's mid-season schedule. The singing competition hosted by Ryan Seacrest will air on Sundays and Mondays at 8 p.m., starting on March 11. Judges for this season include Lionel Richie, Katy Perry and Luke Bryan. The series is produced by FremantleMedia North America and Los Angeles-based 19 Entertainment. Exec producers include FremantleMedia North America's Trish Kinane and Jennifer Mullin, along with co-exec producer Megan Wolflick. Phil McIntyre also joins the series as an exec producer and Kristopher Pooley as music director. FremantleMedia International distributes the series worldwide.