In brief: CraveTV sets stand-up special premieres
Plus: Riftworld Legends comic expands to print this month and LIFT, imagineNATIVE announce mentorship recipient.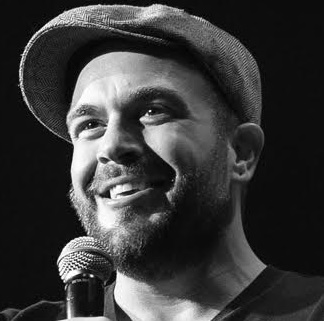 CraveTV sets Darcy Michael Goes to Church premiere
CraveTV's first original stand-up comedy commission starring Canadian comedian Darcy Michael (Spun Out) (pictured) is set to premiere on March 9. The one-hour special Darcy Michael Goes to Church is one of three original stand-up specials CraveTV is developing in partnership with Just For Laughs and Toronto's Counterfeit Pictures. Others include Debra DiGiovanni: Here's The Thing and Graham Chittenden: Reluctant Adult. Debra DiGiovanni: Here's The Thing will stream in April and Graham Chittenden: Reluctant Adult will follow in May. All three specials were filmed at the Toronto comedy festival JFL42.
Riftworld Legends comic expands
Ten-part digital comic Riftworld Legends is expanding to print, with the first issue being released Feb. 28 in comic book stores across Canada and the U.S. The comic is an expansion of the popular 2014 CBC digital series Riftworld Chronicles. It hails from Chronicles creator Jonathan Williams, with art from Daniel Wong, colours by Paris Alleyne and editing from Jennifer Hale. Set in the 1400s, the comic follows two young mariners stranded on an island in the North Atlantic who discover their surroundings may not be appear to be what they think. The comic is published by Toronto's Joe Books, in association with First Love Films and Sienna Films. First Love's Andrew Nicholas McCann Smith and Laura Perlmutter produced the eight-episode web series, with Sienna Films' Jennifer Kawaja and Julia Sereny (Cardinal, Ransom) exec producing. A one-hour Riftworld TV series and mobile game are also in the works.

imagineNATIVE, Liaison of Independent Filmmakers of Toronto (LIFT) name mentorship recipient
Toronto-based independent doc-maker Natasha Naveau is the recipient of the 14th annual LIFT/ImagineNATIVE Mentorship. The program offers an Indigenous artist living in the Greater Toronto Area the chance to expand into filmmaking and present a new work at the ImagineNATIVE festival. Naveau will be paired with mentors, enrolled in seasonal workshops hosted by the Liaison of Independent Filmmakers of Toronto (LIFT) and given access to LIFT's production and post-production equipment. In addition, she will receive financial support from imagineNATIVE to complete her film, which will premiere at the 2018 festival. Naveau was raised in Mattagami First Nation and is of Dene (Chipewyan) and Anishnaabeg heritage. She is currently a masters of fine arts candidate at Ryerson University's documentary media program. The imagineNATIVE Film + Media Arts Festival takes place Oct.17 to 21.