Indiecan picks up North American rights to U.S. political doc
Waking the Sleeping Giant, from Purple Frog Productions and Bright Blue Ecomedia, follows the 2016 U.S. presidential race.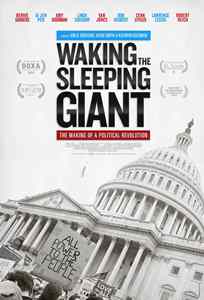 Indiecan Entertainment has picked up the North American distribution rights to the feature documentary, Waking the Sleeping Giant: The Making of a Political Revolution.
Produced by Colorado-based Purple Frog Productions in association with Vermont's Bright Blue Ecomedia, Waking the Sleeping Giant tells the story of the 2016 U.S. presidential election and various groups' efforts to build a progressive political movement. It chronicles the challenges and opportunities faced by a resurgent political movement on the left, while following five individuals (including U.S. senator and presidential hopeful Bernie Sanders) wrestling with racial injustice, economic inequality, and the corrupting influence of money in politics.
The feature is directed and produced by filmmaker Jon D. Erickson and former Sanders' staffer Jacob Smith. Kathryn Goldman also served as a producer on the project.
Waking the Sleeping Giant won best feature documentary at the Thin Line film festival in April 2017.
Indiecan is planning a theatrical and VOD release for fall 2018.
With files from Realscreen