Deals: eOne, Netflix, CBC, Hollywood Suite
HBO Europe picks up Entertainment One's Peppa Pig, Netflix acquires Les Affames, and more.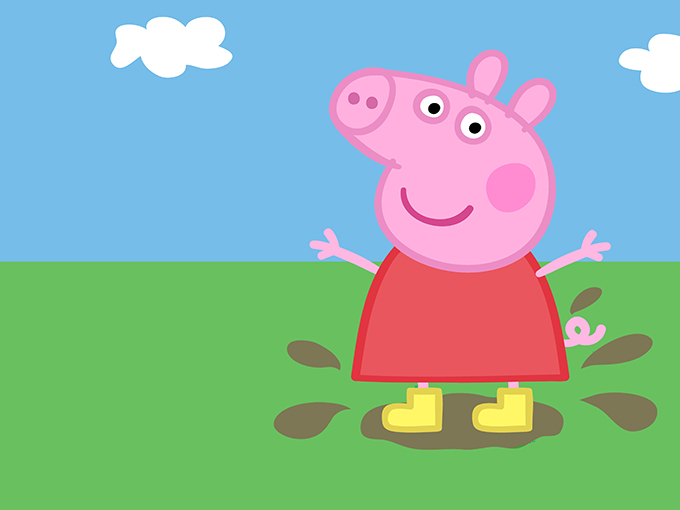 eOne
HBO Europe has acquired Entertainment One's Peppa Pig (pictured) and Ben & Holly's Little Kingdom for its SVOD service, HBO GO. The first seasons of both series are now available in Hungary, Czech Republic, Slovakia, Poland and Romania. The series will be made available on the platform in Slovenia, Serbia, Croatia, Montenegro, Bosnia-Hercegovina, Macedonia and Bulgaria in the spring. Both series are produced by Astley Baker Davies, in which eOne acquired a 70% stake in 2015.
Netflix
Netflix has acquired French-Canadian film Les Affamés. Written and directed by Robin Aubert, the film is produced by Montreal's La Maison de Prod. Producers on the project are Stéphanie Morissette and C.S. Roy. Les Affamés tells the story of a small village in Quebec where locals' bodies are breaking down. The feature film stars Marc-André Grondin (Goon), Monia Chokri (Heartbeats, Sur-Vie) and Micheline Lanctôt (The Disappearance), among others. It made its world premiere at the Toronto International Film Festival (TIFF) in September 2017, where it won Best Canadian Feature. The thriller was released in Canada in October 2017 and is nominated for five Canadian Screen Awards, including Best Motion Picture. Starting March 2, 2018, Les Affamés will be available on Netflix in markets around the world, except for Canada, Latin America and Eastern Europe. Canadians using the SVOD next year won't be able to see the film till next year.
CBC Radio-Canada
CBC has picked up the first two seasons of Guru Studio's Netflix original True and the Rainbow Kingdom. The preschool series follows young heroine True and her best friend Bartleby the cat as they come to the rescue of Rainbow City's citizens. It is based on the concept by artist collective FriendsWithYou and was developed and produced by Toronto's Guru in collaboration with Home Plate Entertainment and Pharrell Williams' i am OTHER. The first episodes launched on on ICI Radio-Canada Télé in Quebec on Feb. 4. The show will premiere on CBC on March 24.
Hollywood Suite
Hollywood Suite has acquired feature length doc, Gone South: How Canada Invented Hollywood. Produced by Less Bland Productions, the doc will air on the specialty channel in February. Examining the influence Canadians have had on Hollywood and American pop culture, the doc was originally broadcast on Super Channel and is supported by the Rogers Documentary and Cable Fund. Produced and directed by Leslie D. Bland and Ian Ferguson, the film is exec produced by Jake Labow. Hosted by Tracy Thomas, the film features interviews with Alan Thicke, Arthur Hiller, Monty Hall and Neve Campbell, to name a few. The doc previously had a theatrical run and was selected by 22 film festivals across Canada, the U.S. and the Cayman Islands.
Kew Media Group
Toronto-based Kew Media has acquired the worldwide sale rights to Painkillers; I, Dolours; Cosplay Universe and Perfect Skin. The thriller Painkillers stars Adam Huss (Power) and Madeline Zima (Californication, The Sixth Sense), and is directed by Roxy Shih (The Tribe). Meanwhile, the doc I, Dolours, directed by Maurice Sweeney (Saving The Titanic), follows activist Dolours Price. Cosplay Universe, provides an insider view into the Comic-Con craze with figures like Stan Lee interviewed. Meanwhile, Perfect Skin follows a young Polish woman who becomes fascinated with a tattoo artist. It stars Richard Brake (Game Of Thrones), Natalia Kostrzewa (The Cured) and Jo Woodcock (Dorian Grey). The thriller is produced by Fiona Campbell and Cordelia Plunket and is currently in post-production. These films will be presented to distributors at the European Film Market this month.
QYOU
Toronto's QYOU Media, a content and distribution company, and Malaysia's iflix, a subscription OTT service for emerging markets, have partnered to distribute QYOU's content to 25 global territories. The agreement from the two companies aims to bring short form content from video creators to emerging markets. Content will be distributed through iflix's service to Indonesia, Malaysia and Philippines.