Cutie Pugs waddle onto TVO's fall lineup
The Toronto-based Little Engine Moving Pictures' new live-action series about four talking pugs will premiere on the pubcaster this fall.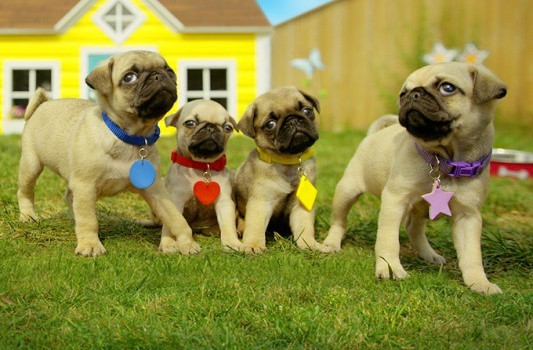 Little Engine Moving Pictures' Cutie Pugs is joining TVOKids' fall lineup.
The live-action preschool series (26 x 7 minutes) about four talking pugs and their five-year-old owner will premiere on the broadcaster this fall. B.C.'s Knowledge Network will also broadcast the series, although no air date has yet been set.
A French-language version of the show called Copains Carlins is also being delivered to TFO and SRC Radio-Canada in fall 2018. The series received funding from the Shaw Rocket Fund and the Independent Production Fund.
Little Engine's principal Maria Kennedy serves as a exec producer on the series, along with creative head and showrunner Ben Mazzotta.
Little Engine has partnered with Sticky Brain Studios to co-produce two digital interactive Cutie Pugs games. The Pug Bubble Bath game encourages children to learn how to take care of the dogs, while Peakaboo Pug is a game of hide and seek for preschoolers.
TVOKids previously commissioned Little Engine's pre-school series Canada Crew back in 2016. Distributed by Breakthrough Entertainment, the show teaches kids about people and places across Canada and made its premiere on Canada's 150th anniversary. TVOKids also previously greenlit Little Engine's Now You Know (78 x 7 minute) which airs on Starz in the U.S., JimJam in EMEA and Knowledge in Canada.