Opening up the pay equity discussion in Canada
The women behind Global's Mary Kills People gathered Tuesday for a wide-ranging panel discussion on some of the main issues facing women in screen-based industries today.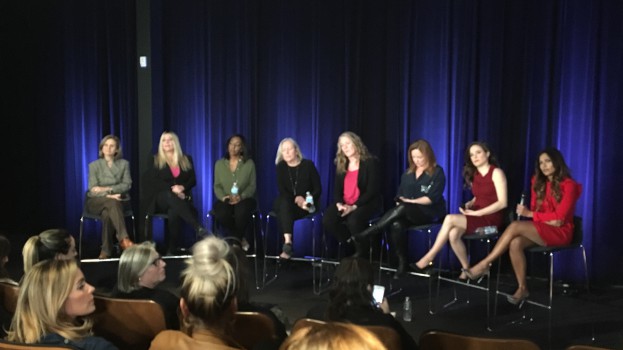 The all-women team behind Global's Mary Kills People gathered at Corus headquarters Tuesday evening for a wide-ranging discussion digging into some of the main issues facing women in screen-based industries today. The panel, called "Women Killin' It in the TV Industry" also focused on how the show came together.
Among the topics explored was that of pay equity, which eOne's SVP of creative affairs, Tecca Crosby highlighted as one of the issues requiring further discussion across the industry. "I think the pay equity [discussion is important because] it's very hidden, because people don't talk about what they make," she said. "I think of myself as not really having been victimized overtly, but I wonder over a long career what opportunities I didn't get, was my pay competitive with my male coworker? That's something that's very hard to know."
Crosby commended a recent deep dive from the U.K.'s public broadcaster BBC following wide-spread reports of inequity in how male and female talent are compensated. "I commend what the BBC tried to do. I'll be curious to see whether other organizations do the same thing," she added.
Cameron Pictures' Amy Cameron said she has found that women in the industry are being far more transparent with one another about the always-tricky issue of salary. "I'm very encouraging of young writers to make sure they're finding out what they deserve, find out what others are making, and being open with each other. So it's not a private shame, you know, [where you ask yourself] am I making as much as a guy? I think women are starting to be more open with each other," she said.
Corus VP of original content Lisa Godfrey added that it's time for women to start comparing the remits of their respective positions and assess whether their male counterparts are making more. "So, what did the person that had the job before me have if [that person] was a male, and what was the purview of their job? I think there has been an undercurrent that women are talking about, but it's not a shared experience with men and women as much as it needs to be."
"It's time to really engage a lot more men in this conversation and really understand where their blocks are with this and where their struggles are. Part of the next step here is a next round of engagement that brings men comfortably into this conversation with us," added Corus EVP and COO Barb Williams.
In terms of how Mary Kills People came together in the first place, Tassie and Amy Cameron said it was never the intention for the team to be all women. "It's been a very organic process – it's not like we said we're going to crew this up with women and only hire female writers," Tassie Cameron said. But as the team began to grow in the early stages of the project, Amy Cameron said the realization that it was an almost all-women team was something they took great pride in. "It was exciting, the moment we realized it was predominantly women who were there making these creative decisions," she said.
On the commissioning side, Williams said the project was a no-brainer for Corus because of its topical themes surrounding physician-assisted death, as well the fact it centred on a the life of a mother balancing life and career.  "And it had a title you just never wanted to change," she joked.
The first three episodes of the series averaged 680,000 (2+) viewers, according to Numeris data provided by Corus.  The season two finale airs Feb. 8 at 9 p.m.
Pictured L to R: Barb Williams, Lisa Godfrey, Marsha Greene, Tecca Crosby, Amy Cameron, Tassie Cameron, Caroline Dhavernas and Sangita Patel