Breaking Barriers backs projects from Patricia Rozema, Rama Rau
Produced by Toronto's First Generation Films, Rozema's latest feature Mouthpiece is based on the stage play by Norah Sadava and Amy Nostbakken.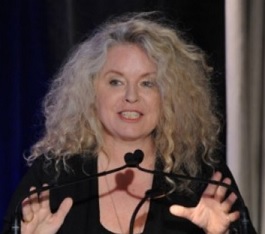 CBC has backed new projects from Patricia Rozema (pictured) and Rama Rau through its Breaking Barriers Film Fund for underrespresented creators.
Mouthpiece, currently in production in Toronto, is writer/director Patricia Rozema's first feature film since Ellen Page-starrer Into the Forest, which premiered at TIFF in 2015. Based on a stage play of the same name by Norah Sadava and Amy Nostbakken, the film is produced by Toronto's First Generation Films. The drama tells the story of a woman who, in the wake of her mother's death, scrambles to write a eulogy, arrange the funeral while at the same time figure out who she is in light of the complex and devastating loss.
Producers on the project are Rozema (pictured), Christina Piovesan and Jennifer Shin, while exec producers are Alex Brisbourne, Angela Brisbourne, Martha McCain, Kathleen Ramsay, Martha Ramsay and Maria Martin Stanley. Nostbakken and Sadava, who penned the screenplay with Rozema, star alongside stage actor Maev Beaty. Telefilm is also financially supporting the film.
Nathalie, the latest from League of Exotique Dancers director Rau, is also backed by the CBC fund. The drama follows a 14-year-old girl who is trafficked from a young age and tricked into believing that her pimp is her boyfriend. However, when she is arrested during a police raid and placed in a foster home in Northern Ontario, she begins to learn about family and loyalty. 
Nathalie is produced by Toronto's The Road Back Productions, with filming set to begin in North Bay in April. Sally Karam, an alumnus of the CFC's Producers Lab in 2015, is producing the feature, while Damon D'Oliveira is executive producing. In addition to CBC, Telefilm and Northern Ontario Heritage Fund Corporation are also backing the film.
Mehernaz Lentin, the recently appointed senior director of Breaking Barriers, told Playback Daily the fund is looking to support audacious, envelope-pushing stories from diverse creators. "Let's look at the reality of Canada – audiences are starved for a richer and more diverse range of stories that reflect all Canadians. It's about telling stories from different perspectives that we may not always be familiar or comfortable with, and that's where it gets really exciting," she said.
CBC launched the Breaking Barriers Film Fund in November 2016, with a mandate to support feature-length projects from underrepresented Canadian creators. CBC pledged at least $7.5 million into the initiative over three years. Other projects that have previously received funding include Mina Shum's Meditation Park,  which world premieres at TIFF '17, as well as Sook-Yin Lee's Octavio is Dead! and Michelle Derosier and Marie-Helene Cousineau's Angelique's Isle.