Joly, unions discuss harassment in creative sector
ACTRA National president David Sparrow said an industry-wide code of conduct could be ready by February.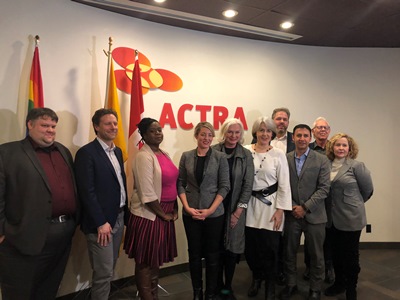 Following meetings with members of the creative community in Toronto on Jan. 17, Minister of Canadian Heritage Melanie Joly said her government is committed to "making sure there is zero tolerance for sexual harassment and psychological harassment in workplaces," but stopped short of communicating details of the government's plan to do so.
Joly participated in two separate meetings, one organized by ACTRA, as well as a second meeting hosted by the Professional Association of Canadian Theatres (PACT) and the Canadian Actors' Equity Association. Throughout the day, Joly and representatives from the organizations discussed how to implement and support anti-harassment strategies in culture sector workplaces.
Earlier in January, Heritage announced it would review its funding policies to ensure funding goes to organizations that promote harassment-free workplaces and meet the public sector's code of ethics. "I've asked my department to make sure our grants and contributions are linked to making sure there's zero tolerance for harassment in workplaces in our arts and cultural sector," she said.
While she did not say whether Heritage will deny funding to organizations that do not comply, or when changes to the funding policies will be made, she said her department is currently considering several different strategies to ensure "there is much more of a responsibility on the part of people in charge of workplaces to make sure [employees] are kept safe."
Following its meeting with the Minister, PACT and the Canadian Actors' Equity Association, which represent live performing artists, announced they'd established working groups to develop a national code of conduct, as well as review its governance models and board composition, among other actions.
In her meeting with ACTRA, the CMPA, WGC, DGC, and FIA (the International Arts and Entertainment Alliance), the Minister discussed ways to support workers by investing in projects such as toolkits and sharing best practices.
ACTRA, along with 15 other organizations, including the CMPA, WGC and IATSE recently committed to establishing an industry-wide code of conduct. When asked by Playback Daily when the film and TV sector could expect to see that, David Sparrow, president of ACTRA National said a working group met before the holidays to create a draft code, which is currently being reviewed. "In the next week or so we'll be meeting again to try to hone those proposals and send them out. We're hoping that by the middle of February we'll have a code that people can begin to sign on to."
"In terms of efficacy of the code going forward, people are making a decision to say this is how our business will operate, this is how we will cooperate with the other signatories to this code and how we will investigate and move forward in supporting victims and survivors of harassing behaviour, and how we'll help to reeducate people who have perpetrated these inappropriate behaviours against other individuals. I think we're making good progress," he said.
"We want to do this right and ensure we have an effective code going forward that will protect all workers across the entertainment industry."