9 Story buys Out of the Blue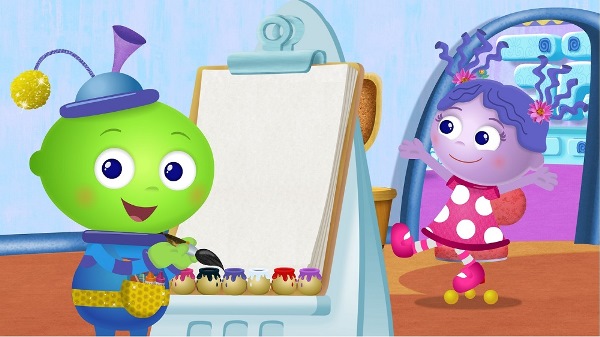 The New York-based children's media co was founded by Blues Clues co-creator Angela Santomero and former Nick exec Samantha Freeman.
Toronto-based kids producer/distributor 9 Story Media Group has acquired Super WHY producer Out of the Blue Enterprises.
Founded in 2005 by Blues Clues co-creator Angela Santomero and former Nickelodeon exec Samantha Freeman, Out of the Blue will become a wholly owned subsidiary of 9 Story. Managing director Freeman will lead the New York-based company, with Santomero continuing to serve as creator and executive producer.
Out of the Blue and 9 Story have previously collaborated on several projects, including Daniel Tiger's Neighborhood, which 9 Story produces and distributes internationally with The Fred Rogers Company, in association with Out of the Blue. They've also partnered on Creative Galaxy (pictured), an Amazon Studios' show produced by Out of the Blue on which 9 Story is the animation partner.
In addition to expanding its footprint in the U.S., the acquisition grows 9 Story's consumer products reach, said 9 Story president and CEO Vince Commisso in a statement. Out of the Blue owns the classic toy brand Colorforms, and handles all licensing and merchandising for that property, Super WHY and Daniel Tiger's Neighborhood.
The deal, terms of which were not disclosed, marks the latest move in 9 Story's expansion strategy. In 2015, the company purchased Irish animation studio Brown Bag Films. The following year, it added an international distribution arm based out of Brown Bag's Dublin office. In late 2017, 9 Story officially brought its Toronto studio under the Brown Bag banner. Across its offices, 9 Story employs nearly 600 staff.