Is Toronto's studio crunch at a tipping point?
New inventory is set to open this year, but producers and studio owners say a more comprehensive approach from the city is needed to secure business for the future.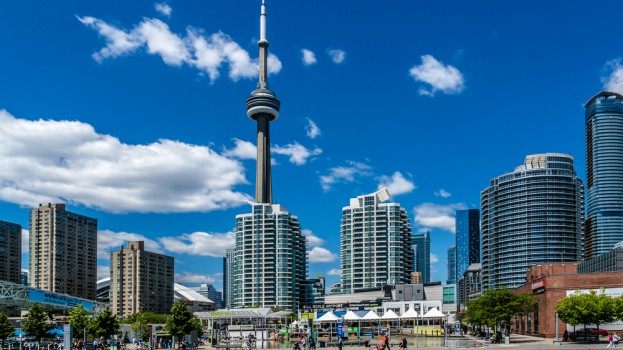 Severe and relentless over-subscription of Toronto's studio inventory has become the city's norm in recent years, with increasingly lengthy lineups for available studio space.
So if Cinespace VP Jim Mirkopolous had his way, he'd ask the City to make its New Year's resolution to commit to building up the city's studio infrastructure. In his view, the situation has become dire.
"As an industry, if we stand still for one more year then we may never catch up to our competitors," he told Playback Daily. 
According to a November FilmOntario report, Toronto studios turned away between $130 million and $260 million in business over the previous 12 months. To deal with the crush, Toronto recently approved a deal to purchase Showline Studios from Canada Post to ensure the facilities will continue to be used as studio space. "Multiple years of record investments have proved that Toronto is a preferred production location, which has also resulted in our studio spaces being booked to capacity. Our intervention is required at this pivotal time to retain a key existing resource," said Councillor Paula Fletcher, chair of the City's Toronto Film, Television and Digital Media Board, at the time.
More importantly for the future, Toronto City Council in December adopted the Port Lands Planning Framework, which unlocks a portion of the Port Lands' total 800-acre space for the expansion of the film sector, although no further plans, or a timeline, have yet been outlined. There's also more space on tap in the near future: Pinewood is constructing a new 27,500-square-foot facility on its existing Port Lands footprint (set to open in May), as well as moving forward with plans to add a further 66,000 square feet of sound stages by 2019. Cinespace too in September unveiled expansion plans for its Kipling Avenue campus in Etobicoke, adding a pair of soundstages (two 20,000-square-foot studios) that will be operational by August.
In addition, TriBro Studios president Peter Apostolopoulos confirmed to Playback Daily that his studio is targeting expansion in 2018 with construction of new, purpose-built studio space. Further details will be announced later in the year, he said.  In its existing space, TriBro will this year host seasons four and five of Temple Street-produced Killjoys.
But as the industry waits for this additional studio capacity to become available, the competition for vacant studio space is increasingly fierce. It's a problem facing both foreign and domestic productions, notes eOne's SVP, global physical production, film, television and digital, Armand Leo, however the U.S. shows hold an advantage over their Canadian counterparts in that many (but by no means all) have the financial flexibility to leave their sets up between seasons. This means that Canadian projects can often find themselves moving between studios because their financing can't accommodate a large deposit on studio spaces.
Leo dealt with such a scenario last year, when the clock ran out on studio space for an undisclosed domestic series between seasons. eOne had to pull down its sets, and when the renewal was eventually confirmed, it had to find a new studio because its previous spot was occupied. "The demand is so intense that the landlords can't really give you any slack," he said. 

It's not just Canadian productions affected. Last year, CBS drama Salvation left Toronto for Vancouver after it failed to secure sufficient studio space for its season-two shoot. The production had taken down its sets between seasons, losing its place at Revival 629 in the process, and could not find another suitable space to return to when it received a greenlight for its sophomore season.
The balancing act of booking studio space while waiting for greenlights is becoming increasingly tricky for producers, said David Cormican, partner and president at DCTV. "We all feel like we're displaced now. The usual players and the usual spots where we would previously go are few and far between, or the lineups are very long, and there are no more soft holds on anything. You've got to put hard cash down, which is tricky to do in this day and age when financing is getting more and more complicated," he said.
"You often have to put up at-risk money to secure a spot for something that isn't necessarily 100% a go just yet. But if you don't, you're in trouble on the other side if you do get a greenlight two weeks or months from now," he added.
The sustained increase in serialized TV production has also added to the urgency with which Toronto's studio owners and producers want to see capacity growth. Mayor John Tory was drumming up business for Toronto at last January's annual entertainment-industry trade mission to L.A., asking for more share of Netflix's billions in production spend, and in the meantime Facebook and Apple also announced their respective entries to the original-content market, with both reportedly prepared to spend more than USD$1 billion annually.
But accommodating some of the larger new players, such as Netflix, is not easy given the lack of available space, as well as the length and scope of their leasing requests. In L.A., for example, Netflix in October 2016 signed a 10-year lease for Sunset Bronson Studios, according to multiple reports, ensuring it has sufficient studio space to accommodate its growing slate.
Mirkopoulos said Cinespace also recently signed a deal with Netflix that gives the streamer the five-year renewal rights for its Warner Bros-produced series Titans at Cinespace's 30-acre Kipling Avenue campus in Etobicoke. At its east-end facilities (on Booth Avenue and Eastern Avenue), however, Cinespace would not have been able to accommodate the request due to upcoming city-approved redevelopment projects that will see non-film-related construction work taking place nearby. "I could not have signed Netflix at Booth Avenue, for example, or at Eastern Avenue, and just pretend that major disruptive construction is not coming next door [in the future]," said Mirkopoulos of two of its studio locations that may go offline in the coming years due to the deals signed last year with General Motors and First Gulf.
Cinespace is currently working to relocate this studio capacity to Toronto's Port Lands, which is favoured by many producers for its proximity to the downtown core.
"We desperately need to focus on the Port Lands and make it a studio core. It's good for business and it's good for talent and stars who like to be close to the downtown," said Cormican. He added that with so much production going on in the city, it is becoming increasingly difficult to attract crew members, who have more job options than ever, to take jobs that involve long commutes. With the current level of demand, "we're more like 10 years behind, in terms of being able to meet capacity," he said.

And while the City's recent adoption of the Port Lands Planning Framework is a positive sign for the year ahead, Mirkopoulos said that more capacity must be built in the coming years if Toronto is to begin meeting the sky-high, sustained demand.
eOne's Leo agrees. "I just hope that the development that is hopefully forthcoming is done in concert with the industry and that we're able to capture a lot of the business that we're not currently bringing in," stressing the importance of providing a variety of studio spaces to cater to the different budgetary levels of the projects shooting in the city.
As to whether 2018 will provide some relief for Toronto's studio industry, Mirkopoulos said the new spaces coming online will certainly ease the crunch. However, to ensure the success of the industry in the long term, studio businesses must be given more opportunities to lease land for the film-related construction.
"If our film industry is to keep expanding and growing, [the City] has to facilitate the ability for studio developers to have the first crack at expansion sites. If we keep lagging behind in terms of studio capacity, our $2-billion industry could falter," he said.
Image: Shutterstock