CTV reveals mid-season lineup
New shows and returning favourites follow a successful fall with The Good Doctor and The Indian Detective.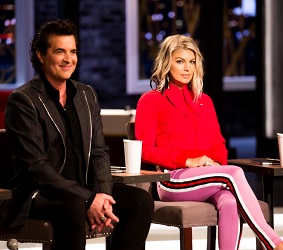 CTV has lifted the curtain on its winter schedule details following a strong fall performance.
Returning with a new season on Jan. 3 and airing Wednesdays at 8 p.m. is The X-Files. The second installment (10-episodes) of the series re-boot will once again be produced by original series creator Chris Carter and will feature a guest appearance from William B. Davis as the infamous Smoking Man character.
Another returning favourite is the U.S. version of The Amazing Race. While normally the Canadian version is a bigger ratings grab, the reality show simulcast from CBS grabbed an average audience of 1.33 million viewers per episode on CTV last season. This season will feature world class "champions," including nationally ranked debaters, a world champion eater, former NBA all-stars and an Indy 500 winner.
Race will premiere Feb. 11 at 9 p.m. Rather than airing weekly, Race will air five nights per week starting Feb. 11 and will conclude Feb. 25.
The new CTV series currently leading the mid-season marketing push is the reality singing show The Launch (premieres Jan. 10, airs Wednesdays at 9 p.m., as previously announced). The competition boasts celebrity musicians such as Shania Train, Nikki Sixx and Boy George, and will be simulcast on CTV, CTV Two and Much.
Ellen's Game of Games, starring talk show superstar Ellen DeGeneres, will return to the schedule in a new timeslot starting Jan. 2. It will air Tuesdays at 8 p.m., and will return with two new episodes back-to-back.
The second season of Canadian original Cardinal premieres Jan. 4 and will air Thursdays at 9 p.m.
Other fall favourites remaining on the schedule include comedy juggernauts The Big Bang Theory and Young Sheldon, remaining in their Thursday spots (8 p.m. and 8:30 p.m., respectively) starting Jan. 4, the two most-watched series of the fall season, according to Numeris data provided by Bell Media.
Meanwhile, medical drama The Good Doctor was the third most-watched last fall, reaching an average total audience of 2.76 million (2+). The Vancouver-shot series moves back to Mondays starting Jan. 8. And while its four-episode run has come to an end, CTV's The Indian Detective was the eighth most-watched series, and the number one new Canadian series this fall, reaching 1.54 million total viewers (2+).
Other CTV mid-season premiers
Lucifer – Jan. 1
Kevin (Probably) Saves the World (formerly The Gospel of Kevin) – Jan. 2
Criminal Minds  – Jan. 3, moving to the Wednesday 10 p.m. timeslot
Law & Order SVU  – Jan. 3
Blue Bloods  – Jan. 5
Marvel's Agents of S.H.I.E.L.D.  – Jan. 5
This is Us  – Jan. 9
Blindspot  – Jan. 12
Grey's Anatomy  – Jan. 18
How to Get Away With Murder  – Jan. 18
W5  – Jan. 20
Fall series returning to CTV Two are American Housewife (Jan. 3),The Goldbergs(Jan. 3) and Arrow (Jan. 18). CTV's The Flash will move to CTV Two starting Jan. 16.
CTV and TSN will both broadcast the NFL Playoffs beginning with the wild card round Jan. 6 and 7. The Super Bowl will air Feb. 4. Immediately following the coverage of the Super Bowl, This is Us will air in the coveted post-game time slot before returning to its regular Tuesday time slot the following week.
Other special events include the Golden Globe Awards (Jan. 7, 8 p.m.)