The world according to David Rocco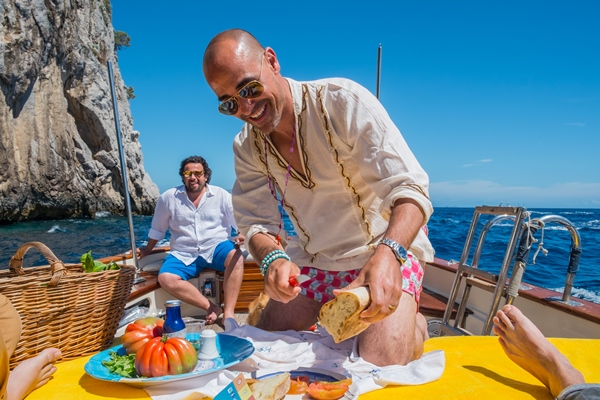 Long before exporting Cancon was government purview, Toronto-based Rockhead Entertainment made its Dolce series an authentic global brand.
In the world of TV according to David Rocco, shows are born to travel, your broadcaster is your best friend and no opportunity is too small to promote your brand.
Exporting Canadian content may be the hot topic right now but Scarborough, ON-born David Rocco has been doing it for over a decade, cultivating an international brand and persona that effortlessly crosses borders. Case in point: the man successfully sells Italian cooking to Italians, in Italy. Beat that, Bourdain.
Rocco and his wife Nina, who together run Toronto-based Rockhead Entertainment, came to prominence in Canada with David Rocco's Dolce Vita, a travel and cooking series originally greenlit by Food Network Canada (FNC) in which Rocco would cook for family and friends in Florence, Italy.
Starting in 2004, the series aired for four seasons on FNC and certain international markets on Discovery Asia. But Rocco soon saw "the writing on the wall," realizing that FNC was trending to shiny-floor competition series, not good-vibes instructional cooking shows. So he and Nina started looking to shore up Dolce's international presence, armed with four finished seasons and an established brand.
"We had a product and a show and [we thought] it would be an easier sale than hoping and waiting by the phone that [FNC] would renew, or greenlight, a series," Rocco recalls.
Rockhead found what Rocco likes to refer to as a "partner" in Nat Geo Adventure, (later rebranded to Nat Geo People), which in 2010 was still in its early days as a network. It bought season four of Dolce Vita and when that did well, it picked up seasons two and three in 2011. In 2012, the series' success in India spurred talks with Nat Geo sister net FOXlife to do a show there. Rocco used an event appearance in-country to scout, got the go-ahead from Nat Geo/FOXlife for financing and shot the first Dolce brand extension, Dolce India, in 2012 to air in 2013.
Rocco had originally discussed the India idea with FNC as well, but when it passed, he turned to the Canadian broadcaster that had been Dolce Vita's second-language broadcaster since the beginning, TLN. (Rocco dubbed the English parts of Dolce in Italian for the channel.) TLN boarded Dolce India after things were under way and a new era of partnership was born. Today, TLN holds exclusive Canadian rights for all of Rocco's new Dolce seasons, including Dolce Napoli and the second season of Dolce India, both of which premiered in Canada on Oct. 1, 2017 as well as 2018′s Dolce Africa.
The TLN partnership also began an era in which Rocco would seek to move all parts of the Dolce brand forward simultaneously, juggling pre-financing with the likes of Nat Geo or FOXlife with commissions from domestic casters like TLN. He likes to say he "flips the model on its head," securing international financing for his series first and then finishing with a Canadian partner. (He's worked with Breakthrough Entertainment on and off as a distributor but says he prefers to handle Rockhead business on his own directly, when possible.)
Multilingual TLN is a much smaller specialty than FNC, but Rocco couldn't care less. He can jump on the phone with its president, Aldo Di Felice, any time, inviting him to one of the corporate chef-y events he does to meet potential advertisers or pitching him directly on a new idea. Di Felice is clearly fond of Rocco, and holds Rockhead in high esteem.
"He and Nina have single-handedly created an international presence for the show and precipitated Nat Geo and others to underwrite further ventures," he says. "He's one of those great Canadian exports, not just a great Canadian guy who's done well for himself and created some pleasing programming, but a cultural export."
Ben Noot, senior manager, global acquisitions, National Geographic Partners, calls Rocco a "rare" breed in the TV business, not just for his cross-cultural appeal on screen but for dedication on the business side to developing all of Dolce's international markets, regardless of which network gave him a greenlight.
"If he gets the opportunity to pop into one of our offices and do some locally targeted promo work, he will. That direct-to-local audience conversation he has sets him apart from many others," Noot says.
The effort has paid off, especially in India. Noot notes "there's not been a ton of content in India [that] covered Indian food in that way," and it's earned Rocco a robust presence in a country that has its fair share of gigantic stars. It's also done well for Nat Geo, with season two outperforming channel benchmarks in every market (2+) for both premieres and all runs, according to the network. Interestingly, the network says the Phillipines was Dolce India S2′s best market, performing best relative to channel benchmarks and out-performing primetime benchmarks by more than seven times in premieres. And Dolce Napoli in most markets performed above channel average.
Both Noot and Di Felice cite Rocco's authenticity as a key factor of his consumer appeal: he doesn't pretend to be an expert, he projects an enthusiasm and willingness to learn. And because of that, his shows work in a wide variety of markets.
"He's got that charm that comes through the screen and draws our audience in," Noot says. "And this is a very varied audience: Southeast Asia, Europe – these are very different, disparate audiences and they're charmed by him."
This article originally appeared in the Winter 2017 issue of Playback.