Letterkenny has it all 'figgered' out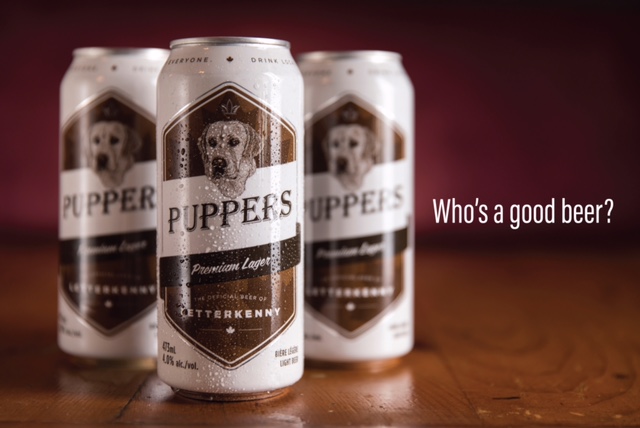 A story of media, merch and microbrews: Letterkenny is Playback's best-marketed TV brand of 2017.
Whether it's the hicks, skids or hockey players, the personas and atmosphere of Letterkenny – a stand-in for small town Canada, generally – have woven their way into the country's culture.
The New Metric Media show, now in its third season, is CraveTV's tentpole series. Bell Media says each time new episodes drop on the platform, subscribers to the SVOD jump, while in the weeks after the new seasons premiere, it beats out stalwart faves like Seinfeld and South Park (Bell does not release subscriber or audience numbers for Crave).
You can thank the stellar cast, funny jokes and the fact that the 30-minute comedy had a built-in audience from an already popular web series.
But there's more to it than that.
"Letterkenny is everyday Canada," says Mark Montefiore, president of New Metric Media.
"The fans are great advocates for the brand and do a lot of work for us," says Matthew Cowling, marketing director for CraveTV at Bell Media, whose in-house team leads all media, social and PR efforts for the series. The show's fan-base is still largely millennial males (18-to-34), but is growing broader.
While the marketing efforts could have easily relied on organic reach alone, hoping fans share their love with other potential fans, the producers and media co have helped give that word of mouth a nudge.
Along with Bell Media-owned mass channels like radio or out-of-home ads, the marketing investment behind the series has been largely social and digital.
It's a nod to Letterkenny's origins as a web series, but also to keep the shortest path between promotional content and actually clicking through to watch, Cowling says. For example, all cold open and teaser videos include clickable banner ads to drive audiences to Crave's site.
But more than reaching audiences online, where they might be easily translated into Crave subscribers, Letterkenny has taken its message to the streets, hitting up fans in the real world.
Among noteworthy marketing initiatives this year was the real life launch of Puppers, the series' craft beer. In season one, New Metric licensed use of existing beer brands, but by the second season, saw an opportunity to create a proprietary beer for Letterkenny's residents. The idea became real through the help of Stack Brewery, specifically chosen for its roots in Sudbury, ON where the series is filmed.
The beer served as a testing ground for the show, going beyond marketing to be a real business (all of the profits from the beer this year were put back into producing more cans or into the promotion of Puppers, Montefiore says).
While originally meant to launch in May, the decision was made to hold the roll out to stores, sacrificing a few weeks on shelf so that it could launch closer to the Canada Day premiere of the new season. After rolling out June 29, the limited-run 50,000 cans sold out by mid-September.
"It's that extension of the brand and taking the brand beyond the screen and into culture that's really driving opportunities with Letterkenny," Cowling says. The off-screen extensions demonstrate the impact the show has had on Canadian culture, he adds.
The series has also employed the pop-up shops to get its fans hyped. Last March, timed to its St. Patrick's Day special, Bell Media debuted a special temporary store in Toronto, complete with a produce stand recreated from the show. Merchandise, like clothing representing the Letterkenny life (including its signature shamrock hockey jerseys) was also available for sale.
The stars too, and their social channels, are crucial for the show's marketing. Most recently, Bell Media announced a 26-city Letterkenny Live! tour across Canada, a way for audiences to experience the show – which Cowling describes as an "incredibly social" one – with other fans.
Notably, following a deal between CraveTV, New Metric and DHX Media to shop the series and format into international markets, the tour also has some U.S. destinations in mind, though nothing has been confirmed yet.
And it all seems to be working: while Bell Media is mum on the specific results of its marketing or viewership it recently showed its support for the three-year-old show by announcing an unprecedented 40-episode order.
It's not surprising, given how much the show resonates with Canadians' lives – offscreen.
As Montefiore puts it, "Letterkenny's a lifestyle."