What made TIFF's top-10 Canadian movies of 2017?
Adventures in Public School will open the 10-day festival, which will also showcase the debut features of Sadaf Foroughi and Wayne Wapeemukwa, among others.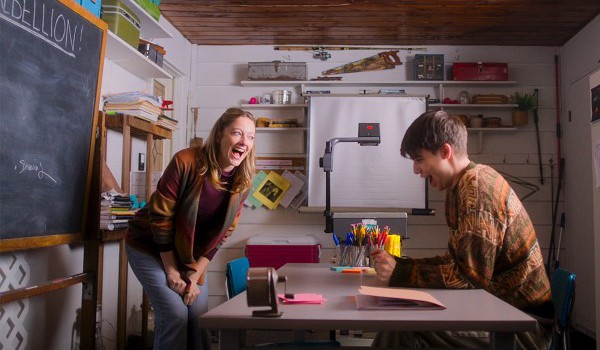 Five of the Toronto International Film Festival's top ten Canadian films of the year hail from first- or second-time directors.
The 17th annual Canada's Top Ten Film Festival will screen four debut features: Sadaf Foroughi's award-winning Ava; Wayne Wapeemukwa's Luk'Luk'I, which won best Canadian first feature at TIFF; Carlos and Jason Sanchez's Allure (previously titled A Worthy Companion), which just tied for the best Canadian flick at Whistler; and Kathleen Hepburn's Never Steady, Never Still, which was picked up for Canadian and U.K. distribution by Soda Pictures earlier this year.
Meanwhile Kyle Rideout's sophomore effort Adventures in Public School (pictured, previously called Public Schooled) will open the fest.
Cameron Bailey, artistic director at TIFF, told Playback Daily that he was especially impressed with the distinct voices of today's emerging talent, as well as the range of storytelling on offer this year.
In particular, he pointed to Rideout's coming-of-age comedy and Simon Lavoie's black-and-white family drama The Little Girl Who Was Too Fond of Matches (La Petite Fille Qui Aimait Trop Les Alumettes) as examples of the lineup's scope.

Rounding out the festival, there's also Robin Aubert's unique take on the zombie tale, TIFF's best Canadian feature winner, Les Affamés, alongside three documentaries. Charles Officer's Unarmed Verses, which won best Canadian feature at Hot Docs, will screen, as will Catherine Bainbridge and Alfonso Maiorana's Hot Docs Audience Award-winner Rumble: The Indians Who Rocked The World.
Finally, Our People Will Be Healed, the 50th feature from Alanis Obomsawin, who Bailey calls one of Canada's most revered directors (and Playback's 2017 Filmmaker of the Year), joins the lineup. Obomsawin will also take part in a special In Conversation With onstage discussion during the festival.
In addition, Evan Rachel Wood, star of Allure will discuss her career and award-winning role in the psychological thriller during another In Conversation With event.
Turning to its shorts program, the festival selected The Argument (with annotations), from Daniel Cockburn; The Botanist, from Maude Plante-Husaruk and Maxime Lacoste-Lebuis; Vincent Toi's The Crying Conch; Naledi Jackson's The Drop In; Amanda Strong's Flood; Milk, by Heather Young; Pre-Drink by Marc-Antoine Lemire; Yassmina Karajah's Rupture; The Tesla World Light, from Matthew Rankin; and Threads, by Torill Kove.
All told, four of the festival's features and five of its shorts hail from women directors. Bailey said TIFF is joining the broader industry push to achieve gender equity.

Canada's Top Ten Film Festival runs Jan. 12 to 21 at the TIFF Bell Lightbox in Toronto. It will also feature 10 student shorts that have been selected from universities across the country.
Following its Toronto run, the festival will travel Canada, stopping at Vancouver's The Cinematheque (Jan. 12 to 21), Montreal's PHI Centre (Jan. 12 to 21), Winnipeg Film Group's Cinematheque (Jan. 12 to Feb. 24), Edmonton's Metro Cinema (Jan. 26 to Feb. 4), Ottawa's National Gallery of Canada (March 15 to 17), Regina's RPL Film Theatre (April 12 to 15) and Saskatoon's PAVED Arts in collaboration with the Roxy Theatre (dates to be confirmed).