WFF '17: Women's voices rise to the top
Confronting sexual assault in the industry and achieving gender parity were two of the major topics tackled at the annual Women on Top breakfast.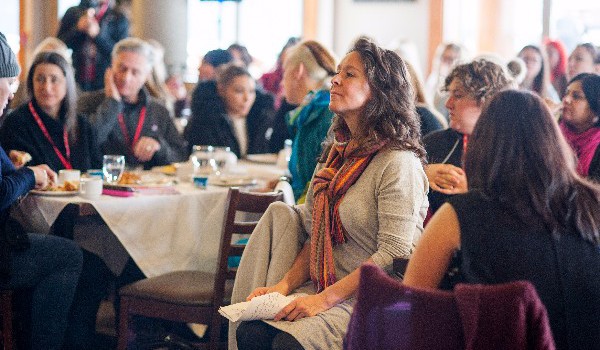 Ahead of the #AfterMeToo symposium to be held this week in Toronto, and following TIFF's panel on the subject on Friday, the West Coast side of the film industry tackled the issue of sexual abuse and harassment at the Whistler Film Festival's second annual Women on Top event.
"We all know change never comes easy. Exposing biases and overcoming denial is the first step that levels the playing field between women and men in our industry," longtime industry leader Valerie Creighton, CEO of the Canada Media Fund, told a packed restaurant full of women directors, writers, editors, producers, cinematographers, and industry leaders.
Pointing to young female talent in the room like Mary Galloway and Katie Boland, Creighton said, "Our collective goal in creating a new path is to allow these courageous and talented women to take their rightful place in our industry. Perhaps when women are leading by example the behavioural controversies we're being exposed to today will be all but eliminated."
Aisling Chin-Yee, a Montreal-based producer and director, is one of the women spearheading the upcoming #AfterMeToo symposium on sexual harassment in the industry. While in Whistler as part of the Canadian Academy's Apprenticeship for Women Directors program, she told Playback Daily that a dam of silence has been broken and the industry needs to capitalize on this moment to create lasting change. One of the goals of the symposium, which takes place Dec. 5 and 6 in Toronto, is to find ways to shift the culture so the onus of responsibility isn't on the victim.
"If something happens to you, you're the one who has to bear responsibility. You're the one who has to expose yourself. You're the one who's potentially defined for the rest of her career by that incident. And that is not anything anybody wants to have to carry on their shoulders," Chin-Yee said in an interview during the fest.
One way to effect change, many stated over the course of the Whistler Film Festival, is to continue to put women in positions of power.
"Gender parity benefits everybody in society, more than anybody, in some ways, men," said Susan Cartsonis, Resonate Entertainment partner and keynote at the Women on Top breakfast. "I'm working on a film right now that is ruled over by women and I constantly get the feedback that it's the best run, or the happiest or most comfortable set, and that needs are being met."
Many funders were on hand at the breakfast to present results from their gender parity initiatives. Over at the CMF, which recently updated its program guidelines in an effort to reach gender parity by 2020, half of all broadcasters with performance envelopes and 56% with development allocations, exceeded the CMF's 2017/18 target of committing 25% of their envelopes to projects where key positions (producer, writers, showrunner, director) are held by women.
As previously announced, 44% of Telefilm's production agreements this year have women directors and 51% projects have a woman producer. For its part, the NFB is well on its way to achieving gender parity across its portfolio. This past year, 44% of productions and 43% of production expenditures went to female-led projects.
These numbers were heartening for many women who have long fought for better representation. "I teach at a university. I see the young women going out and not getting work and I see them not getting opportunities," WIFT's Sharon McGowan, a professor of screenwriting and producing at UBC, told the breakfast attendees. "It's so great now to be in the classroom now and to say, 'The world is waiting for you, there is a chance that you will get to make a film,'" she said.
Women in the Directors' Chair president Carol Whiteman told Playback Daily that parity commitments by the federal agencies are certainly encouraging, but she'd also like to see bigger budgets go to women directors – an issue Telefilm acknowledges it still needs to address.
"There's still the systemic issue of trusting women with large budgets," said Whiteman, adding, with limited dollars available in the system, "What do you do with the filmmakers who are already established and, in the system that currently exists, are entitled. I use that word advisedly because they're entitled by virtue of the rules and criteria put in place [to obtain funding]."
WIDC feature film award-winner Sonia Bonspille Boileau added that while she's also happy to see more women getting funding, she hopes that funding translates into meaningful opportunities. "I don't want women to become tokens for points and money," she said. "You can tick those boxes on a piece of paper and then yes you get the funding, but in that team, is the voice of that woman being heard and respected? Is she truly leading the project or is she just ticking a box? As an Indigenous women, I get this a lot," she said.
While there is much work to be done, over the course of the festival, there was a sense that the industry is galvanized to make change for the better.
"It isn't just about women," said Creighton. "If we can all get this right, this work will become a historic, meaningful movement that will continue to shape not just the future of Canada's audiovisual industry but our society as a whole. It will affect how we see ourselves, and how we're reflected in the stories we tell on screen."