The Launch gets mid-season premiere on CTV
The first episode of the music competition series will air in simulcast on CTV, CTV Two and Much on Jan. 10.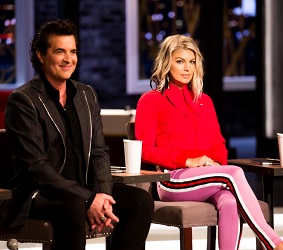 Music competition format The Launch is set for a mid-season premiere, with the first episode bowing in simulcast on CTV, CTV Two and Much. Bell Media-owned French-language channel VRAK will also air the show day and date with CTV.
The six-part project, which is executive produced by Scott Borchetta (pictured left), Randy Lennox and John Brunton, launches on Wednesday, Jan. 10 at 9 p.m.
The hour-long show sees five unsigned artists audition for the chance to record and perform an original song written by a well-known songwriter or producer. Each week a different group of celebrity mentors will work alongside the auditioning performers, with Shania Twain and Scott Borchetta serving as mentors in episode one. Fergie (pictured right), Ryan Tedder, Nikki Sixx and Boy George are among the other mentors set to appear in the show.

The series was developed by Bell Media and Borchetta's Nashville, Tennessee-based Big Machine Label Group and is produced by Bell Media, Big Machine and California-based Eureka, in partnership with Toronto's Insight Productions. Lindsay Cox and Paul Franklin serve as showrunners as well as exec producers. Episodes were filmed in Toronto in September and October.
In addition to the Canadian version of the show, Bell Media has also been shopping the format at international markets, though no format sales have yet been announced.