No 'grand vision' but new CRTC chair charts course for 2018
In contrast to his predecessor's brash approach, Ian Scott offers only an outline for the work the commission plans to undertake in the year ahead.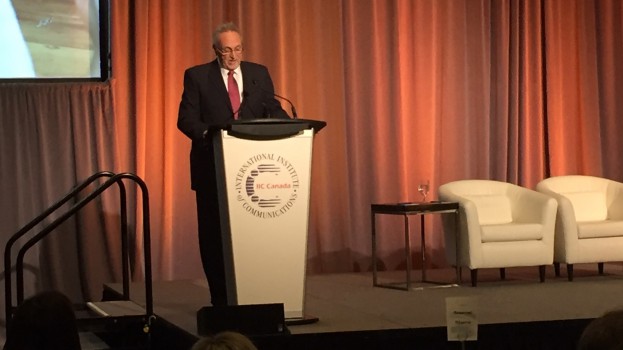 There were no stern words or shots taken at the industry during recently appointed CRTC chair Ian Scott's Nov. 14 speech at the IIC Canada Communications Law and Policy Conference – a stark departure from the commission's former head, Jean-Pierre Blais.
In fact, Scott told the industry that those expecting a grand policy vision would be left disappointed.
"I expect many of you will listen to this speech closely and parse its contents carefully for some indication of which way my fellow commissioners and I intend to steer this organization in the years to come," said Scott. "You are perhaps looking for a grand vision statement, a tip of the cap that we are pro this or opposed to that. I'm sorry to disappoint you. You won't find that here today."
The reason, he said, is that there is still much work to be done and many of the major issues facing the CRTC will dominate the commission's agenda for the foreseeable future. What exactly the grand vision is, though, remains to be seen, though Scott laid out many of the upcoming issues it will be tackling. 

Among the issues currently on the CRTC's plate is conducting an already-underway public consultation on future distribution models for Canadian programming, as requested by the government in September. Phase one of the consultation, which began on Oct. 12 and is set to close on Dec. 1, asks Canadians how they want to access audio and video content in the coming years. Details of what the second phase will include have not yet been revealed (Scott said only that the commission would "conduct further public-opinion research to inform our future-looking report"), but the CRTC must submit a report of its finding to the Department of Canadian Heritage by June 2018.
As well, the CRTC must review the group licence renewal decisions for English and French-language broadcasters, which Canadian Heritage sent back to the commission for reconsideration in July. Heritage sent the renewal decision back for reconsideration after various industry organizations filed appeals in June, arguing that the decision does not meet the objectives of the Broadcasting Act. Later, in July, industry orgs including the CMPA, DGC, WGC and ACTRA penned an open letter to Minister of Canadian Heritage Melanie Joly asking that the decision be reviewed. Scott did not elaborate on timelines for the review, but said the commission will soon launch a "proceeding to reconsider our renewal decisions for television licences of the large French and English-language ownership groups."
Tuesday's address comes two months after Scott took over the CRTC's top role from Blais. Before leaving his post in June, Blais blasted the industry for out-dated thinking, during a speech at the Banff World Media Festival.
"[The] thinking in government and indeed in industry—in this room—is still flawed. It's focused all too much on traditional divisions between broadcasting and telecommunications. On the status quo as an operating principle," he said. "That's not the future. Broadband is. Apps are. Quotas, tax credits and the way we all did business 20 years ago are not. They're anachronisms."
In his Tuesday speech, Scott delivered a softer message, reiterating his desire that the CRTC continue to serve in the public interest under his leadership. "I won't deliver a bolder pronouncement than that about what lies ahead. Instead, I will give Canadians a commitment. Over the next five years, the CRTC will commit to ensuring that we regulate in the public interest and maximize participation in our proceedings using innovative digital tools and social media, and best practices from other regulators."
He laid out five goals to achieve a world-class communications system: fast, affordable and reliable internet; access to high-quality and diverse content; that Canadians can use applications and services on the devices of their choosing; affordable prices due to healthy market competition; and protection against spam and unwanted telephone calls.