How to Buy a Baby on CBC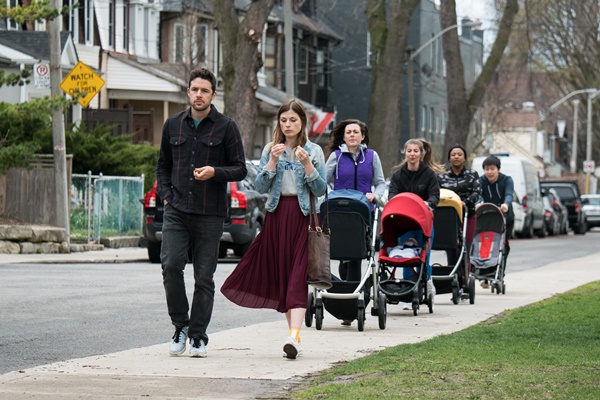 Wendy Litner and Lauren Corber tackle infertility in a new digital original comedy.
New CBC digital original How to Buy a Baby, which bows Nov. 13, aims to tackle the serious subject of infertility with humour.
Created by lawyer-turned-writer Wendy Litner, the digital series is based on Litner's own experiences with infertility and IVF treatment.
The 10-part series is produced by Toronto LoCo Motion Pictures and follows a 30-something couple, struggling to conceive, who are determined to keep the baby-making process "fertili-fun." 
How to Buy a Baby is aimed at adults aged 30 to 45, but its target audience is the 7.4 million women in North America struggling with infertility. "I wanted to create something humorous that other people could laugh about and hopefully make them feel less alone while they're struggling," she says.
While Litner says she created the series for women and families who've gone through similar experiences, she adds that at its core How to Buy a Baby is a comedy with broad appeal.
"One in six Canadian couples struggle with infertility, so I felt that everybody either has trouble starting a family or know someone who has had trouble. I really hope [this] tells their story and that people are able to see themselves in it, but I feel that ultimately it's still a story about a marriage and what happens to a marriage when you hit a roadblock like this," Litner told Playback Daily. 
Litner is using her own story to help promote the series, through both social and traditional media, connecting with the community by tagging posts #IVF or #infertility. CBC Comedy has also been promoting the series through its social channels. For LoCo Motion's Lauren Corber, who also produces My 90-Year-Old-Roommate, the pubcaster's support has been invaluable.
"CBC has really been in the web series game for longer than any other platform in Canada," she says, adding that that experience has provided a wealth of data about how to best position shows for success. For example, Corber was initially concerned when the CBC said it wanted to launch the series on a Monday, she says, but the CBC convinced her otherwise. "[They said], if you launch something right before the weekend, you risk losing eyeballs. People tend to spend their weeks on the internet as opposed to the weekends, so the best time to watch it is during the week."
Starting today, all 10 episodes of the series will be available to Canadian and international audiences on CBC Comedy's YouTube channel.
How to Buy a Baby stars Meghan Heffern (Best Selling Murder) and Marc Bendavid (Dark Matter). It is directed by Playback 5 to Watch inductee Molly McGlynn (Mary Goes Round), and produced by Lauren Corber (My 90-Year-Old Roommate). Matt Code is the line producer and Litner and Corber executive produce.