Inside Independent Edge's New Romantic
With a fresh-faced, CW-heavy cast and a first time writer/director helming the project, Vancouver's Kyle Mann talks taking his latest film from page to screen.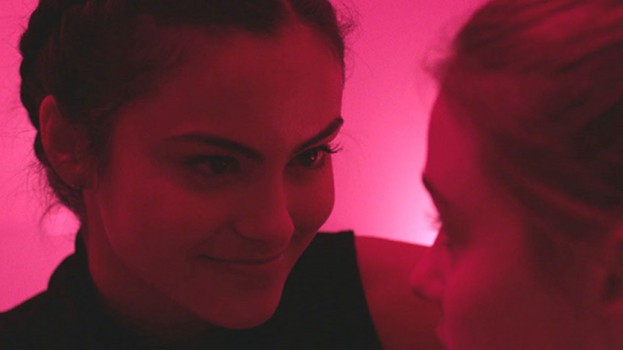 Like a good romcom, The New Romantic all started with serendipitous eavesdropping.
Three years ago, filmmaker Carly Stone overheard a conversation between producer Kyle Mann (Capote) and Stone's brother-in-law, director/writer Rob Connolly, while Mann and Connolly were working on their feature project Edge of Winter. 
Mann was looking to make a film based on the concept of sugar babies (where a younger woman enters a relationship with an older man, usually in exchange for money or gifts) but didn't think it was a topic he should tackle himself. Stone, who at the time had written just one other short film, told Mann she would like to take a stab at penning the script.
After sending her spec script to Mann, the producer hired Stone to write a first draft, which soon received development coin through Super Channel in 2015. The New Romantic, which just completed filming, tells the story of Blake Conway, a hopeless romantic writer who becomes a sugar baby to make her column for the school paper more interesting.
Through his production company, Vancouver-based Independent Edge Films, Mann funded a five-minute short teaser of the feature, which Stone directed. On the back of the teaser, the project was chosen for the 2016 Telefilm Canada Feature Comedy Exchange, where it was further developed with the help of mentors such as Kirsten Smith, whose writing credits include romcom classics 10 Things I Hate About You and Legally Blonde.
With funding secured from Telefilm and Northern Ontario Heritage Fund Corp, the team landed its female lead, signing on Jessica Barden (The Lobster, The End of the F***ing World), who was looking to play more roles outside of the "quirky girl" ones that she had become known for. With Barden on board, the pieces began to fall into place quickly, with familiar CW faces Hayley Law (Riverdale, Altered Carbon), Camila Mendes (Riverdale, pictured) and Brett Dier (Jane the Virgin) also signing on to star in the feature. Stone said the target audience for the film is young adults – a good fit for the CW-heavy cast – though the maturity of the subject matter will also appeal to older audiences.
Production took place in Sudbury, ON throughout September and October, with the budget coming in at just over $1 million. Mann told Playback Daily the decision to shoot the feature in Ontario was driven partly by the high costs of shooting indie features in Vancouver. "U.S. companies have come up to Vancouver and they're shooting a lot [and they have] much bigger budget than an indie producer can raise," he said, adding crews often turn down short-term film work (The New Romantic shoot was 18 days) in favour of longer-term TV projects where they can get constant work for longer stints.

With filming now wrapped, Mann is introducing the project to buyers at the American Film Market alongside the film's sales agent, Toronto-based Acute. The producers are targeting a festival run in the first part of 2018 ahead of a wide release later in the year. There is currently no distributor attached to the project.
The New Romantic is produced by Independent Edge and Drive Films, the latter of which Mann launched in September 2014 with partner Michael Risley to develop and produce feature films. Producers on the project are Mann (Capote), Risley (Edge of Winter), Jason Jallet (Two Lovers and a Bear, Jean of the Joneses) and Jonathan Bronfman (The Witch, The Void).