Column: Is it time for a new points system?
To stand out in the global marketplace, Irene Berkowitz argues the industry needs a platform-agnostic points system.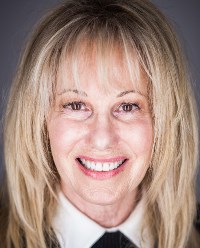 Melanie Joly's Creative Canada policy framework has swept us into a new era by aligning our hard-won production power with transformative forces in the global marketplace. It's quite an endorsement for our creative workforce that the most significant content company of the last decade will be opening a studio in Canada.
However, a disconnect lurks in the details. We don't (yet) have a policy instrument to incentivize content that can win in the battle for global attention.
Let's say it's mid-2018. A TV drama is pitched to Netflix Canada. Netflix believes this project can win audiences in Canada and attract some of the more than 100 million subscribers it has across 190 countries. The studio makes an offer for development, wherein both the creative and financial structure will be set.
It sounds great, but there's a problem. Under current rules, which require a linear broadcast licence, this project can't access CMF funds.
Our producers have evolved to become, arguably, the strongest pillar in our content ecosystem. To seize forward-going opportunities like Netflix Canada, don't they need direct access to funds in a platform-agnostic point system?
Producer-accessed, platform-agnostic, sliding-scale point systems are in use in a number of countries, including U.K., Italy and New Zealand. The U.K., only twice our population, exports 20 times more drama.
Melanie Joly has made it clear that exporting Cancon to the world is a priority. The Creative Canada framework also promises to top up CMF. To achieve the goal of transforming Canadian content into an economic driver, it seems essential to construct an instrument that incentivizes the determinants of market success:  development and distribution.
Moreover, drama should be a priority, not only because it consumes more than half our public funds, but because English-language drama represents 70% of global demand for content (no surprise Netflix went after it). But despite drama being the planet's most popular, profitable genre, Canadian drama is neither. Approximately 40% of every Canadian show is subsidized and domestic audience has been stalled at about 10% for decades.
A platform-agnostic point system for high budget drama could be the way forward. Consider a system similar in spirit to MAPL, which prioritizes creators. MAPL was invented by Stan Klees, Canadian Country Music Hall of Famer and co-creator of the Juno's. Klees' system helped catapult our music to world attention. In 2015, for example, Canadians held seven of the top 10 spots on Billboard's Hot 100.
I propose a matrix that ties together the two essentials of drama market performance: R&D (develop a great product) and ROI (distribute to a big audience). It could be combined with our current point system and designed to protect the value of public funds, by awarding them to projects based on their degree of Canadian-ness (more money for projects with a Canadian producer, creator and distributor, for example, and less money for projects with only one of those components).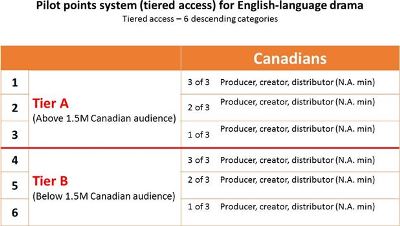 It would extend CMF's focus on audience by rewarding funds based on past market performance. Under this model, junior creators would be incentivized to team with experienced creators with a track record of market performance – an attribute of the world's most successful drama incubator: Hollywood.
Its mechanism would be to award funds on a simple, six-part sliding scale in two tiers, each with three repeating categories. The matrix I propose connects four factors: (1) audience reach; (2) producer; (3) creator; (4) distributor. The dividing line between tiers is set at above or below 1.5 million viewers, because this is approximately the top audience for Cancon drama. It could be moved down, or up as audience numbers grow.
Above all, the purpose of this pilot matrix should be to kick start discussion and collaboration, because policy innovation takes time.
For proof, just look to the industry's last two big policy innovations, from forty years ago: simultaneous substitution and our current point system. It may be surprising that both initiatives were driven by industry, not government. Each took years of industry-CRTC collaboration. The result of past efforts, for a past era, was successful policy that fueled our drama for decades.
If we get it right again, there's another big win ahead for all: our media workforce, our economic coffers, and the cultural rewards of soft power, when Canada's TV brand wins global applause.
Irene S Berkowitz, PhD, is Ryerson University's Policy Research Fellow in the Faculty of Communication and Design (FCAD) and an Instructor in the Ted Rogers MBA.