Canadian copros net Eurimages coin
Three projects, including Kim Nguyen's The Hummingbird Project, received approximately $1.35 million in the European funder's latest round.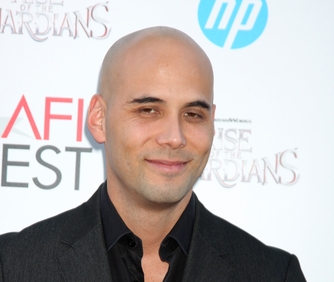 A trio of Canadian coproductions have received a funding boost via Eurimages' latest funding round, which saw approximately $8.36 million (€5.598 million) distributed across 30 projects.
Canada-Belgium coproduction The Hummingbird Project, written and directed by Kim Nguyen (pictured, Rebelle, Two Lovers and a Bear), received  around $537,000 (€360,000). Produced by Montreal's Item 7 and Belgium's Belga Productions SPRL, the project tells the story of two high-frequency traders who go head-to-head against their old boss in an attempt to make millions in a fiber-optic cable deal. The film stars Jesse Eisenberg, Alexander Skarsgård and Salma Hayek.
Belgium-Canada copro The End of Emma Peeters (as we know her), produced by Belgium's Take Five and Montreal's Possibles Média, meanwhile received around $106,000 (€71,268). The French-language feature is about a failed actress who decides to commit suicide on her 35th birthday, until she meets a funeral home employee called Alex. Written and directed by Belgian filmmaker Nicole Palo, The End of Emma Peeters stars Monia Chokri, Andréa Ferréol, Stéphanie Crayencour.

As well, Sweetness in the Belly, from Toronto's Sienna Films and Dublin- and London-based Parallel Film Productions, received around $717,000 (€480,000) through Eurimages. Irish actor Saoirse Ronan (Brooklyn) is attached to star in the Ireland-Canada copro, which is directed by Zeresenay Mehari and written by Laura Phillips. The project, based on Camilla Gibb's fictional novel of the same name, is the story of an Irish girl who is abandoned in Morocco after her parents are murdered.
The Hummingbird Project is a Canada majority copro, while The End of Emma Peeters and Sweetness in the Belly are minority Canada copros. In the case of bilateral coproductions such as these, the financial participation of the majority coproducer cannot exceed 80% of the total coproduction budget and the participation of the minority coproducer must not be lower than 20%.
In total, 54 projects were submitted in the latest round, with all three of the Canadian submissions gaining funding.
The latest funding round comes four months after 1999 (Wish You Were Here), produced by Montreal-based Parabola Films and Switzerland's Beauvoir Films, became the first Canadian project to receive Eurimages coin.
In March of 2017, following years of discussions, Canada became the first non-European country to join Eurimages. On average, Eurimages contributes around $32 million (€22 million) to around 60 coproductions annually. Canada, which will make an annual contribution of $1.5 million to the fund for a term of five years, has the same access to the fund as Eurimage's 37 other member countries, which include France, Sweden, Ireland, Turkey, Germany, Israel, Iceland and Hungary but not the U.K.