Kayak to Klemtu nabs imagineNATIVE audience award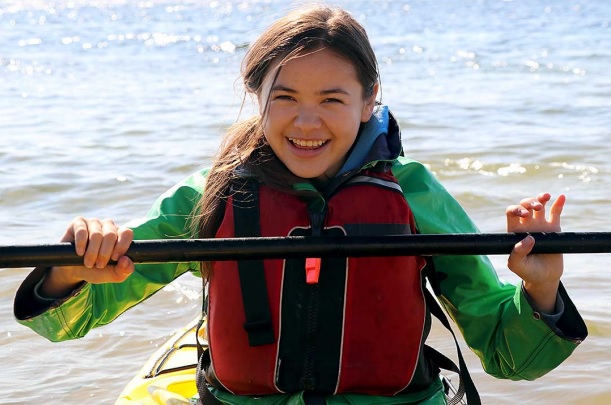 The debut feature film from Zoe Hopkins, produced by Daniel Bekerman and Sheryl Kotzer, shot in B.C.'s Great Bear Rainforest last October.
Kayak to Klemtu, the debut feature from Canadian Heiltsuk/Mohawk filmmaker Zoe Hopkins (Mohawk Midnight Runners), has won the Air Canada Audience Choice Award at the 2017 imagineNATIVE Film + Media Arts Festival.
Directed by Hopkins and co-written by Hopkins and Michael Sparaga, the drama stars Ta'Kaiya Blaney as a 14-year-old girl who makes it her mission to prevent oil tankers from passing through the waters of her homeland.
More than 100 projects were eligible for the audience award at this year's festival. The award is accompanied by a $1,000 cash prize.
Produced by Scythia Films' Daniel Bekerman and Sheryl Kotzer, the film made its world premiere on Oct. 20 at the TIFF Bell Lightbox. Kayak to Klemtu shot last October in B.C.'s Great Bear Rainforest.
"The award is important to me because the people chose it. This is a niche festival – a festival of my peers and my people – and it means so much that it resonated with them," Hopkins told Playback Daily.
Executive producers on the project are Alex Ordanis (Claude Lanzmann: Spectres of the Shoah), Christopher Yurkovich (Opening Night) and Scythia Films' Ethan Lazar (The People Garden).
"Kayak To Klemtu embodies the kind of story I want to be involved with. It's rooted in humanity and has the potential to standup over time and hold meaning for people from all walks of life," said Bekerman.
"The characters grapple with intensely relevant issues such as the threats faced by First Nations and the struggle for people to find their identity amongst the rapidly changing cultural signposts of modern living, but ultimately they are grounded in the universal aspects of the human experience: Bravery, loss, family, forgiveness. I feel movies like this, with a strong sense of purpose, are the best ones to tell to cut through the unpredictable and tumultuous waters of today's cluttered market," he added.
Earlier this week, the festival announced the winners of a number of other awards. Among those, Shane Belcourt and Lisa Jackson's Indictment: The Crimes of Shelly Chartier won the Alanis Obomsawin Award for best long-form documentary, while Warwick Thornton's Sweet Country won the best feature prize.