JFL restructures management team
Following sexual assault allegations against former president Gilbert Rozon, Guylaine Lalonde has been appointed the new company head.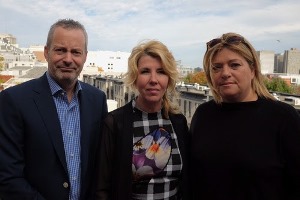 Just For Laughs has restructured its management team in the wake of sexual assault allegations against its founder and former president Gilbert Rozon.
Rozon stepped down as president of the Montreal organization Wednesday night in a statement posted to his Facebook page. His announcement was made shortly before Le Devoir and 98.5 FM published reports from nine women who allege that Rozon sexually assaulted or harassed them.
Guylaine Lalonde will take over as president and CEO of the company and a new independent board of directors will be set up immediately. Lalonde previously served as VP of operations. The JFL management team will consist of Lalonde, COO Bruce Hills and exec producer and Gilbert's sister, Lucie Rozon.
"I want to assure our fans, partners and artists that the Just For Laughs team will continue to produce our festivals and company operations, as we have been for years now, in a noble manner," Bruce Hills said in the release.
Following the allegations, French TV channel M6 announced it would suspend La France A Un Incroyable Talent, a talent show on which Rozon served as a judge. The new season was set to debut on Oct. 26. Quebec TV channel TVA also suspended the broadcast of Just For Laughs Gala, which was scheduled to air Thursday night.
On Oct. 23, JFL confirmed that Rozon will sell all of his shares in Just For Laughs.
Image from L to R: Bruce Hills, Guylaine Lalonde and Lucie Rozon.
Credit: CNW Group/Just For Laughs
Updated: Oct. 23, 2017 10:42 am