TV and radio ad revenues down for Corus in Q4
Development of the company's VOD and audience segmentation efforts will be key priorities in 2018.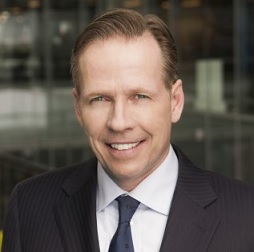 Corus Entertainment pulled in revenues of $381.21 million for the final quarter of its fiscal year, a slight year-over-year decrease (0.8%) from Q4 2016. Revenue for all of 2017 was up just slightly (1.43%) from 2016, at $1.68 billion.
Revenues for television were also down in the quarter ($346 million for Q4, down 0.4%) but increased overall throughout the year (up 50.6% to $1.53 billion). However, the television segment profits were up both for the quarter ($107.25 million, up 0.4%) and the year ($564.37 million, an increase of 39.62%).
President and CEO Doug Murphy (pictured) said the company's TV properties increased their audience share over the year, with the combination of conventional and specialty holding a 41% share of viewers, up from 38%.
However, he acknowledged that TV viewership in general is down, which is why he said a major priority for Corus in 2018 will be to focus on monetizing its VOD platforms and further its efforts on dynamic ad insertions.
He explained that for online viewing, Canadian broadcasters (except Rogers) don't have the capability to monetize the content that is re-watched on their proprietary VOD platforms more than eight days after broadcast due to the timeline for Numeris measurements (which tracks views for overnights plus seven days). However, as the company invests further into its dynamic ad insertion on VOD, Murphy said it saw potential in VOD tests it's conducted in partnership with Rogers.
"We're able to drop in a couple ad units for every commercial break on [for example] the first episode of Bull for the rest of this year, and we're starting to see some interesting advancements in that regard," he said.

Radio revenues were down both for the quarter ($35.2 million, down 5.33%) and the year ($149.22 million, down 4.17%). Murphy said in a conference call to investors and media that radio saw "solid overall gains" in the Vancouver, Calgary, Edmonton and Toronto markets and, despite lower revenue, saw 9% profit growth for the year due to a more streamlined cost structure, including content sharing and cross-promotion with local television stations. He said local sales teams increased their number of duplicated accounts by 41%, and increased spend within those accounts by 28%.
Still, it was a decline in volume for national sales over the summer, as well as "soft local sales" in some markets that contributed to radio's overall declines, said CFO and EVP John Gossling during the call.
Looking into the fiscal year for 2018, Murphy and Gossling said the company expected some modest gain in combined overall ad revenue, with radio slightly stronger than television.
An expanded slate of content from Corus Studios to be exported to the global market and new key content relationships at its content wing Nelvana led to a 10% year-over-year increase with Nelvana in Q4. However, merchandising, distribution and other revenue was down 10% for the quarter and 12% for the year, due to the boost in revenue Q4 2016 from the introduction of Corus Live.
Gossling said the company overall is "still dealing with audiences shifting around, and we have to follow them strategically." He said the company will continue to invest in ad tech and audience segmentation initiatives to monetize its inventory, moving toward more specific, segmented audience groups as opposed to selling broadly to the adult 25 to 54 demographic, which is "a very blunt-targeted instrument."
On Oct. 17, Corus announced the start of a transaction with Bell Media to sell its French specialty channels Historia and Séries+ to the competing media company. The transaction is still subject to approval by the CRTC and the Competition Bureau. "As we reviewed our portfolio of assets this year, we determined that while Historia and Séries+ are excellent channels, they are not core to advancing Corus' strategic priorities at this time. Furthermore, the increased financial flexibility this transaction provides will enable Corus to accelerate our transformation into an industry-leading integrated media and content company," said Murphy in a statement announcing the sale.
From Media in Canada