MIPCOM: Women's voices get fiercer as Weinstein controversy grows
The mogul's downfall has been the talk of Cannes, with high-profile industry members speaking out against sexual harassment in the industry.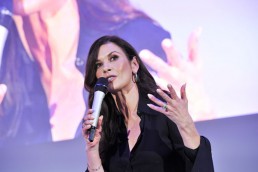 It was quite the week for MIPCOM's annual Women in Global Entertainment Power Lunch.
There is no corner of the Cannes market that is not talking about the downfall of entertainment mogul Harvey Weinstein, who is facing an ever-growing number of sexual assault and harassment allegations that span his decades-long career. The Weinstein news – as well as the suspension of Amazon Studios head Roy Price following sexual harassment allegations made against him – has rocked an industry that many of its members are now calling out for its systemic sexism.  

It was in this atmosphere that actor Catherine Zeta Jones (pictured) took the stage at the Majestic Hotel in Cannes on Monday to discuss the industry and her new Lifetime movie Cocaine Godmother. In the MOW, Zeta Jones plays a real-life crime boss who led the explosive growth of the drug trade in Miami in the 1980s, a character with "no redeeming qualities" but, she said ruefully, one you almost have to admire for her bold ascendancy in the drug underworld. There was no way the Weinstein scandal was not going be addressed, and Zeta Jones held no punches in her assessment of the former mogul. "I'm shocked and disgusted," she said, adding that she was "profoundly proud" of the women who came forward. "That dinosaur… is extinct as of now."
Noting that she had never been in a situation with, or akin to, the ones Weinstein perpetrated, she zeroed in on an interesting aspect of womens' interactions with men in powerful positions in the screen industry – that vulnerability, regardless of where it comes from, is an asset to an actor and should never be seen as a weakness. "We shouldn't be apologetic for our vulnerability," she said. "Never losing your vulnerability and knowing it's protected…it's essential we have that for our craft."
Zeta Jones' comments come on the heels of Canadian actor/writer/director Sarah Polley's high-profile Op/Ed in the New York Times on Saturday, a piece that has been widely well received as offering an insightful, powerful perspective on what it can often be like for women to work on set. "I want to believe that the intense wave of disgust at this sort of behavior will lead to real change," Polley wrote in the piece. "I have to think that many people in high places will be a little more careful. But I hope that when this moment of noisy sisterhood dissipates, it doesn't end with a woman in a courtroom, being made to look crazy, as these stories so often do."
And in Canada, both ACTRA and WIFT-T stepped up on Friday and called for change in the industry in how sexual harassment is treated in the industry, and society at large. "We know sexual discrimination and sexual harassment are very real issues in the industry and in society as a whole," read ACTRA's statement. "We also know, sadly, how prevalent and difficult predatory behaviour is to report. As industry leaders, we all have a role to play in ending the culture of silence. It's incumbent upon all of us to combat it and create a safe space for victims to speak out without fear of retribution or harassment."
"On a daily basis, world-wide, women face discrimination and sexual harassment," wrote WIFT-T in what it called a call to action. "The media/entertainment industry is not exempt; rather it is a microcosm of the world we live in. Discrimination and sexual harassment against women must not be tolerated or be normalized in our society. We encourage men and women in our industry to speak up, listen, support and come to the aid of those in need— to ensure that in our daily business and personal interactions, we all cultivate an environment where women can be empowered and have agency."
Photo credit: V Desjardins/ Image & Co