JFL brings the virtual laughs
The Montreal festival has partnered with Felix & Paul on a seven-part VR experience that puts audiences face to face with comedians.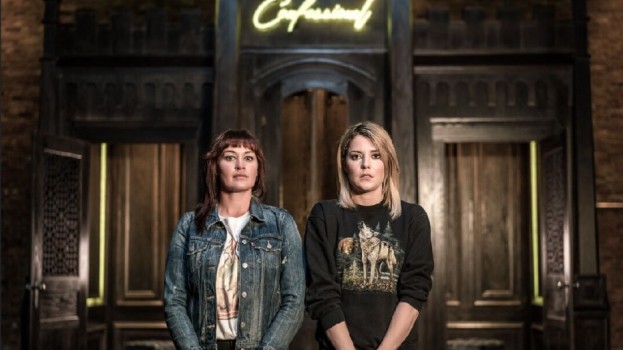 Comedy festival Just For Laughs (JFL) has partnered with Montreal-based virtual reality co Felix & Paul Studios on a new seven-part VR experience, The Confessional.
Premiering Oct. 17, the project puts viewers face to face with comedians/YouTube stars as the latter share some of their most amusing and embarrassing experiences. The project features Lilly Singh, Trevor Noah, Judd Apatow, Howie Mandel, Jim Norton, Moshe Kasher, Natasha Leggero and the duo of Grace Helbig and Mamrie Hart (pictured).
Filmed during the 2017 Just For Laughs festival, The Confessional is streaming on YouTube VR via Daydream headsets. A 360-degree video version (not in VR) also launches Tuesday on YouTube.
The aim of the project is to "create a new form of comedic experience by fusing VR's capacity to create a strong sense of proximity and intimacy between viewer and talent, with the extraordinary quality of presence and performance of the best comedians," said Paul Raphaël, cofounder and creative director of Felix & Paul Studios, in a statement.

Produced by Felix & Paul and JFL in partnership with Google, audio for the project was handled by Montreal-based VR sound specialist Headspace Studio.
Among Felix & Paul's most recent projects is Through the Ages: President Obama Celebrates America's National Parks, for which it partnered with the White House, Facebook's Oculus and National Geographic on an 11-minute project featuring then-U.S. president Barack Obama. And earlier this year, the Montreal studio won Best Immersive Experience prize at the Canadian Screen Awards for its project Nomads.