Netflix once again centre stage as Joly addresses Toronto crowd
At Toronto's Empire Club, Creative Canada took a backseat to tax talk but Minister Joly reaffirmed her mission to update the Broadcasting Act to reflect the new digital reality.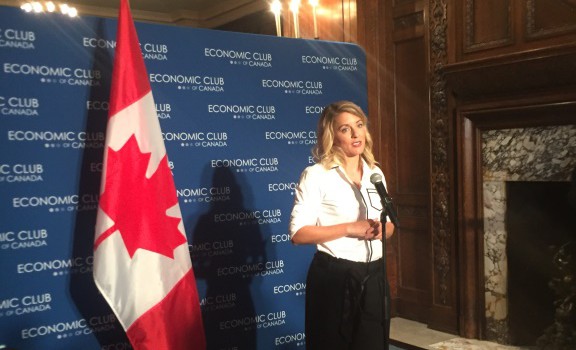 Canadian Heritage Minister Melanie Joly addressed the public and media for the third time in as many weeks about the Liberal government's Creative Canada policy, with Netflix once again taking centre stage in the conversation.
Speaking with Charles Falzon, Ryerson's dean of faculty of communication and design, at the Empire Club in Toronto on Thursday, Joly defended her government's agreement with Netflix to set up a domestic production studio to support its pledge to invest $500 million in "original productions in Canada" over five years.
"There was no negotiation about a tax exemption – that was not part of our discussion. The production house will be paying its income taxes in Canada," she said during the interview. "There was no discussion over whether we should or not legislate digital platforms – these were not part of the conversation," she said.
She reiterated that the conversation with Netflix focused on the company's desire to increase its presence in Canada, on the back of successful partnerships such as CBC's Anne and Alias Grace and Discovery Canada's Frontier. "We think this is a net benefit to Canada, and a net benefit for the creative sector."
Netflix's entrance into Canada with a domestic business model was executed through Canada's Investment Act, which requires non-Canadians to submit an application or notification to the government for its review before starting operation. Both Joly and Netflix have said no sweetheart tax deals were made in order to facilitate Netflix's entry into the country with a studio.
"We have not made any deals about taxes…no tax deals were part of the approval to launch our new Canadian presence," wrote Corie Wright, director, global public policy, Netflix, in a Oct. 9 blog post.
Joly did reference the elephant in the policy room, reaffirming her commitment to updating the Broadcasting and Telecommunications Acts as an increasing number of digital players enter the content market, including Netflix, Amazon, Facebook and Apple. It is these acts that legislate Canadian content contributions from the private sector.
"My job is to grow the sector and protect Canadian culture and that's why we need to modernize our legislation to take into account this reality [of the internet]," said Joly.
Creative Canada is a "mid-point" in a long-term process, she explained. "Over the next weeks and months we will be modernizing our programs and actually making an announcement on how to deal with the Copyright Act [and] the modernization of the Broadcasting [Act] and Telecommunications Act," she added.
Joly's Toronto appearance came on the same day as the CRTC launched a public consultation requested by the government last month. As per the previously announced request, the CRTC will compile a report on "future distribution models for Canadian programming, as well as its continued creation, production and distribution," read the web page for the consultation.
The CRTC is seeking questions on three main topics: "What programming distribution model(s) is/are likely to exist in the future? How and through what platforms will Canadians access their programming? To what extent these models will ensure a vibrant domestic market?"
The request for comments opened on Thursday, with the commission accepting comments until Nov. 24. The report is due back to government by June 1, 2018 at the latest.
"We want to hear from Canadians and interested parties from all regions of the country on these important questions referred to the Commission by the Government. This will ensure we have the necessary information and evidence to prepare a report that will help inform the upcoming review of the Broadcasting and Telecommunications Acts," said Ian Scott, chairperson and CEO of the CRTC, in a statement.