Omnifilm, Reality Distortion Field ink development pact
The Vancouver companies are currently working on the live-action adventure series Knights of Panterra, which will be exec produced by Continuum creator Simon Barry.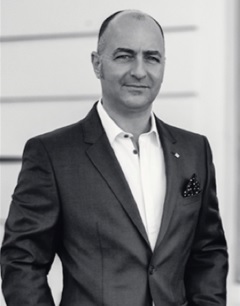 Vancouver prodcos Omnifilm Entertainment and Reality Distortion Field (RDF) have inked a deal to develop scripted content for international markets.
Under the agreement, the companies will create both children's content and adult-focused fare for international markets.
"The goal of the Omnifilm/RDF joint initiative is to accelerate the development of scripted primetime and kid's projects which already have outside writers attached," said a joint statement from the companies.
The partnership was agreed between Omnifilm principal Brian Hamilton and RDF co-founders Simon Barry (pictured) and Stephen Hegyes. Barry, the creator and showrunner of the upcoming Netflix/Syfy series Ghost Wars, and Hegyes founded RDF in November 2013.
The first project the companies are partnering on is Knights of Panterra, a live-action adventure aimed at six-to-11 year olds. Based on the Dino Knights kid's books by Jeff Norton, the project follows four teenagers who team up to form a secret order of knights who ride dinosaurs. Sam Ruano (Reboot: The Guardian Code) is penning the pilot episode, with Zach Lipovsky (Mech-X4) attached to direct and exec produce. Jamie Piekarz (The Stanley Dynamic) and Barry will also serve as exec producers on the project.
Omnifilm's most recent credits include Wild Bear Rescue (12 x 30 minutes), which it produces for Animal Planet in Canada. Aside from Ghost Wars, Barry was the showrunner and creator of Showcase/Syfy drama Continuum. Meanwhile Hegyes' credits include Kari Skogland's Fifty Dead Men Walking and Mina Shum's Meditation Park, which premiered at TIFF '17 last month.