Minister Joly to lead cultural trade mission to China in 2018
Announced Thursday at the Vancouver International Film Festival, the mission will focus on four areas, including film and TV and virtual reality.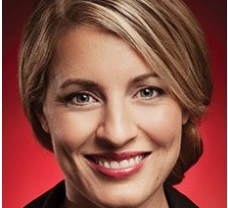 Minister of Canadian Heritage Melanie Joly will lead a trade mission to China in April 2018 to promote Canada's creative industries, it was announced Thursday at the Vancouver International Film Festival (VIFF).
The mission will look to strengthen cultural and economic ties between the two countries and focus on four separate sectors: film and audio-visual (including animation and visual effects); video games, virtual reality and augmented reality; digital content created for public spaces or museums; and performing arts.
The announcement was part of Joly's first official follow up to the launch of the government's Creative Canada policy, which was unveiled last week to mixed reactions. On Tuesday, Quebec's political parties banded together to vote unanimously for a motion requiring digital content providers pay provincial sales tax.
The stated objectives of the trade mission to China are to give market access to Canadian businesses looking to do business in the country, establish new partnerships between Chinese and Canadian creators and to provide opportunities to learn from other Canadian companies that have already achieved success in the Chinese market. The mission is expected to stop off in Beijing and Shanghai. In January, Joly took part in a seven-day trip to China where she met with local officials, as well as Canadian creators working in the country, to discuss Canadian arts and culture.
In addition, Joly announced the release of a market study highlighting the opportunities in the Chinese market for Canadian content. Called "A Snapshot of China's Creative Industries", the study was commissioned by the Department of Canadian Heritage, in partnership with the Trade Commissioner Service of Canada.
The Hollywood film business, initially buoyant on the opportunity presented by China's vast population and rapid theatre build out, has retrenched in recent months. In July, the Wall Street Journal reported the Chinese government had ordered the country's banks to stop financing Dalian Wanda Group's foreign entertainment acquisitions and this week, WSJ again broke news that Hollywood's Chinese film deals were troubled, alleging that ticket sales of Hollywood movies were underreported by 9%, costing U.S. studios about $40 million.
In Canada, the Whistler Film Festival previously operated a "China Gateway" coproduction competition that saw Canadian and Chinese producers link up to develop projects; that program was evolved in 2015 to a more international profile. Elsewhere, Vancouver-based producer Raymond Massey has had particular success in the Chinese market by developing a deep specialty in cross-border dealmaking, inking a number of partnerships with companies in both China and India.