Melanie Joly to discuss cultural trade mission at VIFF
The event marks the first public followup from Minister Joly following the Creative Canada policy reveal last week.
Minister of Canadian Heritage Melanie Joly will unveil details of her cultural trade mission at the Vancouver International Film Festival's Industry Exchange later today.
The government announced the talk this morning, stating that Joly will also "share the Government's vision for the future of Canada's creative industries" as well. Details on what exactly will be discussed were not disclosed.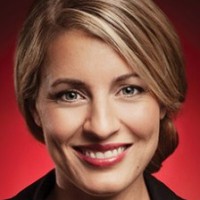 Joly will participate in two sessions: an open "fireside chat" and a closed-to-the-media roundtable discussion on opening new markets for Canadian content. Details on how the content of the roundtable discussion will be released publicly were not available as of press time. Joly will also deliver remarks at at Directors Guild of Canada reception.
All three events will take place at 1 p.m. PST.
The industry in Canada has been reeling after the government announced its Creative Canada policy last week, which focused mainly on a $500 million commitment from Netflix to produce content in Canada. Few details were released with the policy's announcement, with today's event marking the first official followup from Minister Joly.