Atomic Cartoons options The Last Kids on Earth
The Thunderbird Entertainment-owned animation studio is developing the series of kids books for television.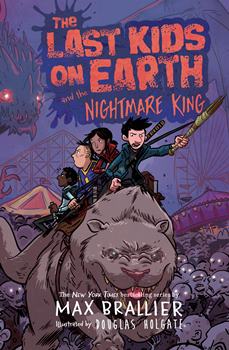 Thunderbird Entertainment's Atomic Cartoons has optioned the rights to Max Brallier's book series The Last Kids on Earth. 

The Vancouver-based animation studio will develop the series of books for television. Brallier is on board to write the animated series, and will exec produce alongside Atomic's Jennifer McCarron and Matthew Berkowitz. Development on the series is currently underway, though no broadcast partners have been announced.

Brallier's book series, illustrated by Doug Holgate, follows 13-year-old Jack and his gang of suburban middle school friends as they battle zombies in the aftermath of the monster apocalypse. The third installment in the series, The Last Kids on Earth and the Nightmare King, was released today (Sept. 26) by Viking.
In September, Atomic CEO McCarron added the title of co-president of Thunderbird Entertainment. The announcement was one of several executive moves at the company, with executive chair Ivan Fecan also assuming the role of interim CEO, taking over for co-founder Tim Gamble, who moved to vice-chair of the board. L.A.-based Berkowitz joined Atomic in October 2016 as head of development.