Canadians bask in Handmaid's Tale Emmy afterglow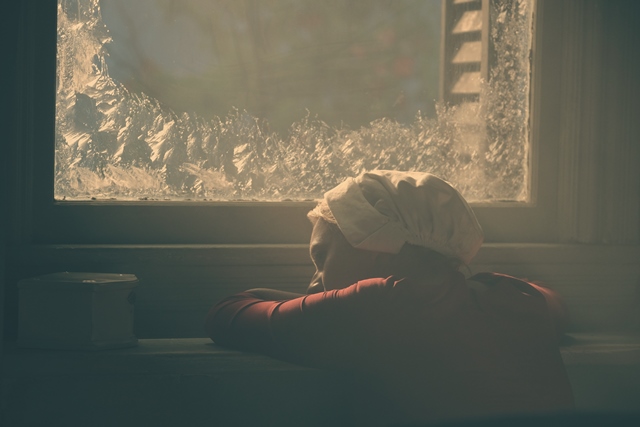 Producers on the series reflect on a wild week that saw the Margaret Atwood story make Emmy history just as production started on season two.
It's not often in life you get to go back to work knowing you helped make history.
But that was the case when the cast and crew on The Handmaid's Tale started production on season two of the MGM Studios series this week.
Handmaid's was the belle of the 69th Primetime Emmy's ball, becoming the first streaming service to take home the best drama category and, possibly, one producer thinks, the first Toronto-shot series to do so as well. Equally as thrilling for many, first-time pilot director Reed Morano (who shot the first three episodes) took home the best direction in a drama series award, the third woman to do so in Emmy's history. The last woman to take home the award was Mimi Leder in 1995.
Series showrunner Bruce Miller won for best writing in a drama series, Elisabeth Moss took home the prize for best actress in a drama and Ann Down won for her supporting role. It also took home three Creative Arts Emmys, for cinematography, production design and guest actress Alexis Bledel. All told, the series took home eight prizes.
The haul – and international headlines – no doubt have put a spring in the step of the hundreds of people (almost all of whom are Canadian) who cast and crew the one-hour drama, which airs on Hulu in the U.S. and Bravo/Crave in Canada.
But it's more than just that, argues John Weber, president of Take 5 Productions, which, along with Whizbang Pictures, are the Canadian production companies for the series and frequent MGM collaborators.
"I think for the industry it means a ton," he says. "You've a top-award-winning Emmy show that has been fully produced in this city. It's an amazing accomplishment for the people involved.
"It validates everything we've been saying at an industry level," he continues. "When you have an industry with diverse cast, top crews and government support, you compete with jurisdictions around the world. And we are [competing] and this is validation of that. All of those things that we always say we need to be a thriving industry are exhibited in this show."
"[It's also about] individual pride," adds co-executive producer Sheila Hockin. "Everyone in the cast and crew is incredibly proud of the series. A lot have said they never dreamed that they would have a career that included working on an Emmy-award-winning show. Amplified by the fact that it's Margaret Atwood, our greatest contemporary novelist and she lives in Toronto and … it's Atwood!"
Beyond the business side of things, Hockin admits the success of the series is something of a double-edged sword as it heads into production in Toronto on season two this week. Like all first seasons, cast and crew have the privilege of working in a bubble, making something new outside the realm of public scrutiny. But once a series has been set loose in the wild, the mood shifts considerably, especially if it makes an impact. And in the case of The Handmaid's Tale, the series found especially fertile ground on which to make its mark, as the volatile political landscape in the U.S. eerily mirrored the plot and tone of the show.
It feels a little bit like "someone put cameras in your house," Hockin jokes.
And while she's worked in some very nice bubbles in her time (Vikings, Penny Dreadful, The Borgias), Hockin says there is something about Handmaid's Tale that seems to add up to more than the sum of its parts, from the deftness and care of showrunner Bruce Miller's writing, the impact the novel had on so many people's lives (often at a formative time), bold and assured decisions like hiring Moreno to shoot episodes one through three (and three more women beyond that) or just the essence of Atwood's writing and how it imbued the set.
Director Kari Skogland, who shot the season finale, boils it down to on-set culture.
"All production stories start at the top," emphasizes Skogland, who also runs her own prodco, Mad Rabbit. "When you have someone as supportive and creatively motivated as Bruce Miller, he infuses a nuanced, thoughtful and 'push the envelope' process that means you are both motivated and allowed to bring it all to the table. Lizzie [Elisabeth] Moss is also an incredible leader in the production of the show and is in the trenches with all of us."
From a people perspective, season two is largely status quo, confirm Weber and Hockin, who co-executive produce in Canada alongside Whizbang's Frank Siracusa and producer Joe Boccia, with lead executive producing handled by Warren Littlefield (who also executive produces the other MGM series consistently putting Canada in major-awards spotlights, Fargo). But those people will be working with a few aces up their sleeves as cast and crew seek to exceed the high bar that has now been set.
Firstly, the series has an expanded episode order, ringing in at 13 episodes from 10 in season one. And secondly, showrunner Miller gets to tell a new story in those episodes, as season one concluded in line with novel's narrative.
"Now we step out into the extension of Margaret's world, and the scripts are astonishing," says Hockin. "So we feel like we are venturing into new territory."