Indigenous voices rising: Rezolution Pictures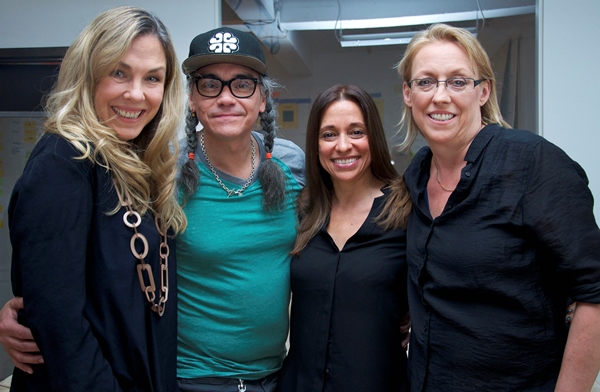 Following the success of Rumble: The Indians who Rocked the World, the Montreal prodco is looking for international opportunities and to expand its series slate.
Playback is delving deeper into the growing chorus for a greater diversity of voices. Over the next few magazines, we'll explore issues (and opportunities) facing underrepresented groups, including visible minorities and women. But first, we're profiling just a few of the many new and established Indigenous content creators finding successful strategies for getting to screen and drawing in eyeballs. Next up: Rezolution Pictures
Rezolution invests in global growth
After more than four years in production, Rezolution Pictures rushed to get its feature doc Rumble: The Indians Who Rocked the World submitted to the Sundance Film Festival in January. When they handed the film in for consideration, it didn't even have an ending, but the filmmakers were eager for Rumble to premiere at the prestigious fest, known for its docs and support of Indigenous creators. Ultimately, Rumble was selected, and after a mad dash to finish the cut, the doc went on to win Sundance's world cinema documentary special jury award for masterful storytelling.
The win kicked off a big year for the Montreal-based prodco. Led by executive producers Ernest Webb, Catherine Bainbridge, Linda Ludwick and Christina Fon, Rezolution is currently expanding its slate on the series side and looking to create more IP that will strike a chord with broader audiences.
New York-based distributor Kino Lorber is confident that Rumble will do just that. "After winning [at] Sundance, our sense that Rumble would be embraced by North American audiences was corroborated," says Wendy Lidell, SVP theatrical distribution and acquisitions at Kino Lorber, which acquired most North American rights to the film in April.
Rumble later went on to win audience awards at both Hot Docs and the Illuminate Film Festival in Arizona, deepening the distributor's confidence in the film, says Lidell. Kino Lorber launched Rumble's theatrical run the last weekend of July at New York City's Film Forum and the Hot Docs Cinema in Toronto, then ramped up its push at the end of August, ultimately screening the film in 75 markets across Canada and the U.S.
Directed by Bainbridge and co-director Alfonso Maiorana (cinematographer, Mohawk Girls), the feature explores the Indigenous influence in rock and roll history. In addition to Fon, Bainbridge and Ludwick, Rumble was produced by Rezolution's Lisa M. Roth (The Oka Legacy). It is executive produced by the Rezolution team, Jan Rofekamp (Sugar Coated), as well as musician Stevie Salas and Tim Johnson, who together created the Smithsonian National Museum of the American Indian's exhibit, "Up Where We Belong: Native Musicians in Popular Culture."
"The film resonates with everybody. Black, white, native – everybody comes away with something," says Webb. The feature will have a chance to strike a chord with Canadian and international TV audiences next. Bell Media picked up the buzzed-about doc for its pay TV service The Movie Network ahead of its Sundance premiere. It's also been acquired by APTN, Radio-Canada and ARTV in French-Canada, PBS in the U.S., ARTE in France and Germany, and Israel TV, with broadcast dates still to be announced.
Rumble is the latest award-winning doc from Rezolution – and what Bainbridge calls its biggest international success to date. Launched in 2001, the company has produced more than 20 documentary TV series and films, including Reel Injun, which won a Peabody Award in 2010. While its primary focus has long been factual, the prodco has since expanded into video games (through Minority Media), virtual reality (MinorityVR) and has found success in scripted with Mohawk Girls.
Created and executive produced by Tracey Deer (Club Native) and Cynthia Knight (RiP: A Remix Manifesto), Mohawk Girls follows four women in their 20s trying to figure out what it means to be a modern day Mohawk woman, and for Rezolution's Fon, it embodies the type of content the company aims for: powerful, entertaining and hopeful Indigenous stories. Although Mohawk Girls is coming to an end after five seasons on APTN, Rezolution has new series in the wings to more than fill the void.
Within the last year, the company shifted its focus to scripted series for the international market and has added development exec and veteran showrunner Greg Lawrence (Crash Canyon) to its team to help further that goal. It's actively pursuing international coproduction opportunities and is in talks with networks in the U.S., Australia and the U.K. about its development slate.
Rezolution is focused on partnering with Indigenous and non-Indigenous creators to make entertaining cross-over content that will speak to audiences from any background, says Bainbridge. "We're going for high-end, really well-told scripted stories. We're forging relationships on an international level in a way that we had never done before."
Since networks are increasingly commissioning creator-driven series, the company is collaborating with showrunners to develop its slate. "We try to surround ourselves with really smart people and get out of their way," says Webb.
Rezolution is developing five series for the international market, including The Skill Set, from New York feature writer Alana K. Massey (author of All The Lives I Want) and Toronto-based Lawrence. The comedy, which Bainbridge describes as "the new Girls," follows four women in New York who work in the sex industry.
It's also in development with APTN on Dirty Red Boys, an eight-episode dramatic crime series from Rhymes From Young Ghouls director Jeff Barnaby and The Listener executive producer Sam Egan. Bainbridge describes the series as The Sopranos set in Mohawk territory. Fon will take both projects to MIPCOM and the International Drama Summit in London, U.K., among other markets.
As it expands its scripted focus, the company continues to invest in its bread and butter: documentary. Season two of Indians + Aliens debuted on APTN on Sept. 5. Written, co-directed and hosted by Webb, the 13-episode doc series explores UFO sightings and mysterious encounters through an Indigenous lens. While APTN would not provide viewership numbers, it confirmed the series ranks among its top 10 most watched.
Bainbridge says the company is in pre-development on two more feature documentaries that explore Indigenous issues that will hopefully replicate the "magic" of Mohawk Girls and Rumble on a global level. "We're trying to follow a formula of [creating] entertaining and authentic worlds," she says. "We don't want to stop the momentum."