Indigenous voices rising: Eagle Vision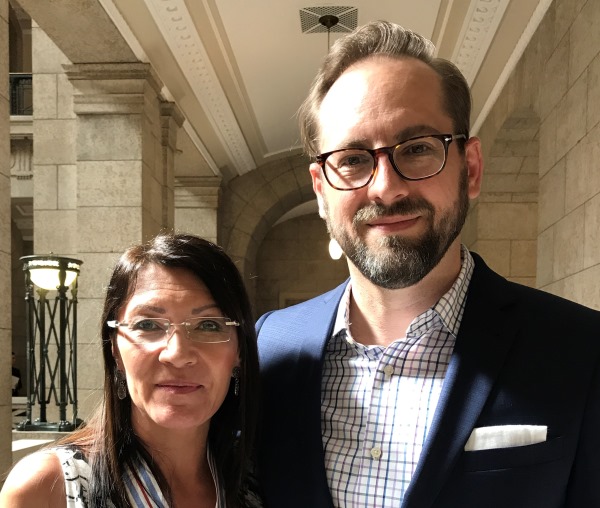 Taken exec producers Lisa Meeches and Kyle Irving talk staying ahead of storytelling trends, using critical acclaim to build opportunities and the work that still needs to be done.
More than 1.4 million people in Canada self-identify as Indigenous. Yet despite making up 4% of the population, they are virtually invisible on screen…and behind it.
Producers and filmmakers working in the industry face huge uphill battles – primarily due to a lack of access to distribution companies, broadcasters and funding, according to a 2016 CMF study. And then of course, there's the racism: Indigenous people in the screen industries reported being paid 30% less than their counterparts across jobs, among the lowest paid in Canada, according to a 2009 Hill Strategies study; while 16% of respondents to a 2012 WIFT study said they faced "overt discrimination" that severely influenced their ability to work.  
But we're starting to see the waves of change: CBC launched the Breaking Barriers fund for underrepresented groups, CMF dished out its greatest investment in Indigenous content, the NFB allocated 15% of its budget to Indigenous films, while Telefilm quadrupled its fund for Aboriginal content creators.
And even before this influx of government coin and promises, Indigenous content was successfully drawing in audiences. While he himself is not Indigenous, more than 1.2 million Canadians tuned in to watch Gord Downie's Secret Path, a story of Anishinaabe boy Chanie Wenjack who died in an escape attempt from a Residential School. Michelle Latimer's deep dive into the Aboriginal protest movement in Rise is among Viceland's most-watched shows. And Rezolution's Rumble is cleaning up the awards circuit, getting pick up on channels around the globe.
Maybe one day we can achieve New Zealand's success: 15% of the country's film commission funding goes towards Aboriginal content, matching the country's Indigenous population. Today, eight of its top-10 domestic films have a strong Indigenous connection.
To help the process along, we're delving deeper into the growing chorus for a greater diversity of voices. Over the next few magazines, we'll explore issues (and opportunities) facing underrepresented groups, including visible minorities and women. But first, we're profiling just a few of the many new and established Indigenous content creators finding successful strategies for getting to screen and drawing in eyeballs. First up: Eagle Vision.
Eagle Vision's ahead-of-the-trend storytelling
Eagle Vision has spent the past 17 years challenging the notion that bringing Indigenous stories to mass audiences is a losing battle.
Founded in 2000 by Lisa Meeches, the Winnipeg-based prodco has become a go-to cultivator of Indigenous and non-Indigenous talent and a builder of the local Manitoba production sector.
Meeches spent the early part of her career working as a reporter in Manitoba, before moving into television as the host and producer on the Aboriginal spirituality docuseries The Sharing Circle (APTN/CityTV), which ran for 16 seasons from 1991 to 2006.
With the launch of Eagle Vision, which took over production of The Sharing Circle from the broadcasters, she felt the next step was to unveil a series showing Indigenous children to younger Canadian audiences. She launched the preschool-geared Tipi Tales as the fledgling prodco's first original in 2002. At the time it was the first-ever Indigenous content series to air on Corus' Treehouse TV, running for three seasons (78 x 15 minutes) and winning the prestigious Parent's Choice Gold Award twice, as well being picked up by Australian pubcaster SBS.
Tipi Tales also proved to be the genesis of an enduring partnership. Through the project, Meeches met non-Indigenous producer Kyle Irving, who shortly joined Eagle Vision and later became a partner.
From those beginnings, the prodco has brought its approach to a broad catalogue of Indigenous and non-Indigenous projects, including the 2005 biopic Capote (produced with Infinity Features, United Artists, and Sony Pictures), which garnered a best film nomination and a best actor win for Philip Seymour Hoffman at the 2005 Academy Awards.
The critical acclaim that Capote received elevated Eagle Vision's credibility to new heights, says Irving, as well as drew attention to the local production sector in Manitoba.
It was followed in 2008 with the Gemini Award-winning MOW Elijah (eOne, NFB, Eagle Vision), based on the true story of Indigenous leader and activist Elijah Harper, which aired in primetime on CTV. Feature doc We Were Children (2012) also explored the experiences of Residential School survivors and was picked up by Netflix Canada.
More recently, the prodco has struck a timely chord with the half-hour, Meeches-hosted docuseries Taken (APTN, CBC), which profiles cases of missing and murdered Indigenous women.
Taken was in development for three years and felt like it was going nowhere, says Irving, until the events surrounding the murder of Indigenous teenager Tina Fontaine made headlines across the country. Suddenly, broadcasters were interested. Season one drew an average audience of 100,000 (2+) and reached 1.4 million viewers in total on CBC. Before its second season even premiered (set for fall 2017 on APTN and CBC), the series garnered a greenlight for a third.
Likewise, We Were Children took seven years to get made because, in Irving's words, "for a long time, no one believed that audiences wanted to hear that story."
"This speaks to an important side of Eagle Vision, which is to try and be ahead of the stories – we want to be ready when the audience is ready to hear them," he says.
As such, for two years Eagle Vision has been developing a companion series to Taken, Stolen Brothers, about missing and murdered Indigenous men. The project sits alongside a raft of other in-development projects from Indigenous writers and creators, including hour-long drama Red Nation Rising from Michelle Latimer and writer/producer Blake Corbet (Elijah), and half-hour comedy Cardinal Rule, from actor/producer Rebecca Gibson.
Of the latter, which Eagle Vision shopped several years ago to no avail, Irving says the market may now be more receptive: "When we first designed [Cardinal Rule], I don't think the mainstream market was ready for an urban Indigenous family comedy. Now I think there's a greater overall awareness of the Indigenous market – the importance and value of it."
Currently Eagle Vision is filming the Kristin Kreuk-starring legal drama Burden of Truth (CBC), produced with ICF Films and eOne.
And while Eagle Vision has had success in bringing Indigenous stories to screens, there is still much work to be done.
Behind the camera, Eagle Vision has been doing its part to address the lack of representation with its internal program Building Bridges, designed to create more film and TV opportunities for Indigenous people.
Spurring the development of both above-the-line and below-the line industry members (around 100 have been involved), the program pairs Indigenous and non-Indigenous people with the goal of exchanging expertise and understanding.
It's not enough though, says Meeches. "If I was to do a report card, I'd say we're all failing miserably," she says of the lack of Indigenous stories told on domestic TV and the overall representation across the industry.
It's hard to dispute this. A recent CRTC-commissioned survey said, in terms of on-screen representation, "Indigenous peoples are virtually invisible on Canadian networks."
While there has been a recent slew of funding from government bodies to help increase Indigenous representation, the production community must spearhead the change and implore broadcasters to tell Indigenous stories in the right way, says Irving. "Whether you're Indigenous or not, there are people in our industry with the credibility and the experience to make shows happen. Emerging storytellers need their support as mentors, as backers and as people who can leverage buy-in from broadcasters and distributors to get projects made," he says.
What it boils down to, says Meeches, is a missed opportunity. A growing Indigenous population, and a non-Indigenous population increasingly eager to learn more about Canada's past, are calling for this type of content, she says, but reluctance on the part of the industry's key decision makers is preventing change. "The audience is being cheated," she says.