The alchemy of Indian Horse: cast, crew and Clint
Producers Christine Haebler, Trish Dolman and Paula Devonshire discuss their goals for the "hands across the nation" project that has caught the attention of Clint Eastwood.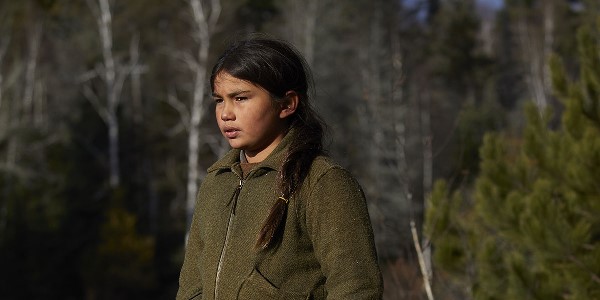 Christine Haebler knew she wanted to bring Indian Horse to screen almost from the minute she heard Ojibway author Richard Wagamese discussing his novel on the radio in 2012. But it would take years – and more than a few obstacles had to be surmounted – to bring the "big, commercial film" that Wagamese wanted to fruition.
On Sept. 15, Indian Horse, adapted by Dennis Foon and directed by Stephen Campanelli, will make its world premiere at the Toronto International Film Festival. Produced by Screen Siren Pictures, Terminal City Pictures and Devonshire Productions, Haebler, Trish Dolman and Paula Devonshire are producers on the film, with Roger Frappier and Clint Eastwood executive producing.
Wagamese's novel follows Saul Indian Horse, a young Ojibway boy forced to attend a Catholic residential school where he is denied the right to speak his language and witnesses terrible abuses. Despite his surroundings, Saul develops a passion and unique talent for hockey that eventually leads him to the pros.
After hearing Wagamese's radio interview in 2012, Haebler had the publisher send her an electronic copy of the novel (which had yet to even hit shelves). She tore through the book in one sitting and promptly sent it to her producing partner Trish Dolman at Vancouver's Screen Siren Pictures, who was equally moved.
"[After reading the book] there was just no doubt in my mind that Christine and I needed to make this into a film," says Dolman.
Unbeknownst to Haebler and Dolman, there were other producers interested in the project. And while they admit that it was controversial that two white women would take on this film, their passionate pitch moved Wagamese and he selected the duo to produce.
One of the reasons he chose them, Haebler says, is because he wanted to be fully involved the process of making the film, and the producers wanted tht as well. He came on board as an executive producer and had a hand in everything from choosing the screenwriter and director, to location scouting and casting.
He even auditioned for a role in the film. But before Indian Horse started preproduction, Wagamese fell ill. He died on March 10, 2017.
Wagamese was integral to the production, the producers say. "He had been so involved and it was his voice in the book that we were all honouring," says Dolman.
One of Wagamese's major goals for the film was that it would help Canadians engage in a process of reconciliation.
"The spirit and intent of how this project was approached was as a 'hands across the nation' [project]. We were all working together for something bigger and Richard really made us aware of that and kept us focused on that," says Dolman.
After developing the script, Haebler and Dolman needed to find a coproducer in Ontario, where the entire film would ultimate be shot. Paula Devonshire, of Toronto's Devonshire Productions and a member of the Mohawks of the Bay of Quinte First Nation, boarded the project in February 2016. "I had been attached to another project when Christine approached me and I honourably withdrew because I knew this was something I'd really regret not being involved in," says Devonshire. "It's a story that needs to be told."
Finding the actors that would help tell this story was an intensive process. For Wagamese, introducing new Indigenous talent to audiences was particularly important. "He wanted to see some fresh faces and create new opportunities for cast members and crew," says Haebler. 
Set between 1959 and 1989, the team needed to find three actors to portray Saul as a young boy (newcomer Sladen Peltier), a teen (Forrest Goodluck, The Revenant) and a young man (newcomer Ajuawack Kapashesit). Not only did they need to find actors who shared a similar look, they needed to find talented hockey players who could also handle the emotional material.
They brought on board L.A.-based casting agent Rene Haynes (who worked on The Revenant) to help begin the process in January 2016. After learning about the Little Native Hockey League they attended a four-day event in Mississauga, ON with players aged six to 18. They also blasted Facebook and local newspapers with casting advertisements. They received 250 submissions, which they narrowed down to a pool of 50 kids to audition.
After again narrowing the pool to 18, the producers found nine-year-old Ottawa-based Peltier. "He wasn't a particularly good actor, I'll be honest with you," recalls Haebler. But he was telegenic and a good skater, so they asked him and three other actors to take acting lessons and re-audition. "It was quite astonishing how far he had come," says Haebler.
Peltier had to carry some particularly heavy and pivotal scenes, including one in which his hair was cut. "The preparations were so carefully undertaken for that. We had ceremonies conducted by local elders and ceremony leaders to respect the families and honour the hair-cutting ceremony," explains Devonshire. "[That was very] emotional for the family and hard do on screen. They're really difficult [scenes], and for a young boy to be able to maintain his ability to act and convey his character, I was very impressed."
Likewise, Kapashesit, who plays the older Saul, almost had no acting experience, but "he was able to encompass the pain of that character in a way that was very profound," says Haebler.
The producers all give credit to director Stephen Campanelli who, while he had only previously directed one feature (2015′s Momentum), has worked as a camera operator on all of Clint Eastwood's films since 1995′s The Bridges of Madison County.
"He's extremely strong on the floor and very good with the actors, especially the children and the newer actors," says Haebler. "He was able to really deliver under very challenging circumstances."
"Trish and I did a film called Hector and the Search for Happiness and we shot in seven countries and some of them were very difficult to shoot in, and that was easier than making Indian Horse," Haebler recalls.
Production on the $8-million-range indie began in fall 2016."Every day there was an insurmountable challenge that we seemed to have to overcome. How do we shoot period hockey players but keep them safe without having helmets on their head?" recalls Devonshire. Moving the entire shoot and crew six hours from Northern Ontario to Peterborough, ON in the dead of winter, on an indie budget, was yet another challenge, she says.
"We did everything you should never do in an independent film: we had children, animals, water, snow, ice," says Haebler.
The result is a small movie that looks big, adds Dolman. And it's one that caught the attention of Clint Eastwood. When Campanelli showed him the film this past summer, Eastwood agreed to help in any way he could. "He was very moved – and it's hard to move Clint Eastwood," Haebler says with a laugh."Bringing him on board to help promote the film and endorse it, that gives it a leg up in the market, which is what films like this need."
The producers hope that his involvement will help fulfill one of Wagamese's wishes for the film: that it reach as many people as possible.
Haebler says, "Our commitment to creating something, a film that changes the hearts and minds of Canadians, even the most hard-nosed Canadians, to foster empathy and compassion and understanding for what so many Indigenous people in this country have lived through and the legacy and the trauma that this has caused them was always our primary motivation in making the film."
Elevation Pictures will distribute the film in Canada. It was produced with the participation of Telefilm Canada, Northern Ontario Heritage Fund, Ontario Media Development Corporation, the Bell Fund, the Shaw Rocket Fund, and the Harold Greenberg Fund.
Image courtesy of TIFF