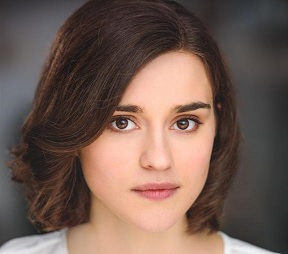 People may not know Rebecca Liddiard now, but that will change this fall. The 26-year-old Toronto-based actress has the kind of presence that can make a good scene memorable through her ability to play off other actors, transforming a banal moment into something striking.
She plays Mary Whitney, the (spoiler!) doomed best friend of Grace Marks in the anticipated adaptation of Margaret Atwood's Alias Grace, which makes its world premiere in TIFF's Primetime TV program today (Sept. 14) and its broadcast premiere on CBC on Sept. 25. Written and produced by Sarah Polley, directed by Mary Harron (I Shot Andy Warhol, American Psycho), and starring Sarah Gadon in the titular role, the six-part series is bound to attract critical and popular attention.
A lot of that attention will centre on Liddiard, the chambermaid who befriends Grace when she arrives to take on domestic duties in Toronto. It's Liddiard's Mary, whose impassioned speech about the failed rebellion of 1837, gives Grace, an Irish immigrant, her first glimpse at a Canadian identity. And it's Mary – funny, open and warm – who sets Gadon's Grace straight about men and the aristocratic ways that still dominated the very British Ontario of 1840s.
To say that Polley is impressed by Liddiard is an understatement. "She has a magic to her that I haven't seen before," she says. "When she first auditioned, she left the room and I literally let out a shriek. It was so astonishing to be in the presence of someone you had never seen before, and who was that massive a talent. She is arrestingly smart, full of life, and brave, and you can see all of that in her eyes."
Harron chimes in: "Although she's wonderful in the character of Mary Whitney, I think that Rebecca's actually a really great comic actress."
Liddiard transitions quickly from her role as the tragic Mary Whitney to Morality Mary, a zany character in Shaftesbury's new CBC series Frankie Drake Mysteries. "The character I play is really off the wall, and there's a real physicality to her that I've never had the opportunity to explore – at least in film and TV," says Liddiard.
Although Liddiard's resume isn't extensive, she's delighted the people who have worked with her. Christina Jennings, chair and CEO of Shaftesbury, has been there the longest since Liddiard was cast in the 2015 Smokebomb webseries MsLabelled as a young fashionista. "I said right away, 'She's going to be a star,'" says Jennings. "She's got great comedy chops; there is real heart and she has a great look." Soon after, Liddiard was cast as Adelaide Stratton, the female lead in Shaftesbury's international coproduction, Houdini and Doyle.
"She is extraordinary. I imagine Rebecca will be whisked away to Los Angeles and that will be the end of her in Canada," says Jennings. "But she's young; it's all about the work right now, it's not about the money."
All the praise hasn't gone to Liddiard's head. A Ryerson theatre grad, who was raised in London, ON, she's remarkably level headed. "It's wonderful to hear," she allows, "but I think I'll just keep trying to work really hard and keep learning and doing better."
To read more about this year's Five to Watch, click here.