TIFF '17: Why Long Time Running was a sprint for Banger Films
The Toronto prodco's co-founder Scot McFadyen talks about jumping straight into production, leaving the directing to others and building the Canadian mythology.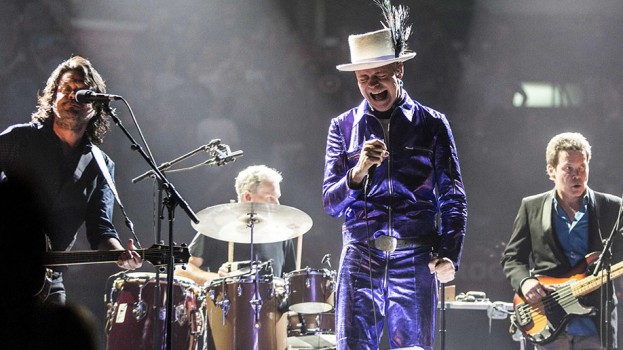 For Banger Films, Long Time Running was a frantic sprint from the word "go."
It was a week before The Tragically Hip's Victoria, B.C. show in July 2016 – the first in its 15-date, cross-Canada farewell tour – when Universal Records Canada and the band's management team reached out to Banger about boarding a documentary that would go on to become Long Time Running. Just seven days later, Scot McFadyen and others from his Toronto-based company found themselves in Victoria, cameras at the ready.
"Normally we'd get projects financed and then move forward, but this was all happening right in front of us – so we had to make a quick decision and jump in with both feet," McFadyen told Playback Daily of Banger boarding the in-motion project. At the time, Bell Media had already boarded the doc.
Set for its world premiere at TIFF' 17 tomorrow (Sept. 13), the doc will makes its Canada-wide theatrical release on Sept. 14 via Elevation Pictures. The doc represents a homecoming of sorts for Banger, which hasn't brought a film to premiere at TIFF since its very first film Metal: A Headbanger's Journey in 2005.
In that whirlwind week before the first show, Randy Lennox, the former CEO of Universal Music Canada and current president at Bell Media, reached out to McFadyen to confirm that Banger had Bell Media's support in assuming the financial risk associated with the project. The project, which charts the band's Man Machine Poem tour and begins at the press conference announcing singer Gord Downie's illness, was in the $2 million range, said McFadyen.
That week, McFadyen also met with acclaimed documentary filmmakers Jennifer Baichwal and Nicholas de Pencier – who had been tapped to direct, due in part to their friendship with the band – to make sure everyone was on the same page. For Baichwal and de Pencier, the project is a departure from previous projects on their résumés, which include Manufactured Landscapes, Black Code and Anthropocene. "I liked that they brought a fresh perspective," said McFadyen, who added that Baichwal and de Pencier's close relationship with the band was key in capturing the intimate, behind-the-scenes aspects of the doc. For their part, Baichwal and de Pencier made the decision not to do any press in advance of the release. "We decided not to do press, interviews or promotion in the traditional sense. Given the circumstances, the film does not require any extra explanation from us," said the pair in their directors' notes, which accompanied the press materials for the film.
On previous Banger projects such as docs Metal: A Headbanger's Journey and Hip-Hop Evolution, McFadyden and Banger co-founder Sam Dunn produced as well as directed, but this was the first time they had solely produced. Since the Tragically Hip doc, said McFadyen, taking a back seat on the directing and focusing more on the producing is becoming increasingly common for the prodco. "It's definitely the direction we're going, because we've been scaling up. We're looking to bring in more directors with strong creative perspectives," he said. Banger is currently in development on projects for CBC and Netflix that it is producing but not directing.
To handle the increased number of projects, the company has been adding to its 15,000 square foot Toronto base, which now houses 10 editing suites. Among the titles on its current slate is the tween-focused series We Are Savvy. The company's post-production department also led the process of editing down 300 hours of concert footage from the Tragically Hip's tour.
With the imminent release of Long Time Running, as well as its previous doc on Canadian rock band Rush, McFadyen said a new goal has crystallized for Banger Films over the past year. "One of our bigger goals is about building the Canadian mythology, and having [Long Time Running] as part of our catalogue further builds that out," said McFadyen, who said Banger is partnering with CBC to bring another music-focused doc to market in the coming months.
Executive producers on Long Time Running are McFadyen, Dunn, Lennox, Bernie Breen, Patrick Sambrook, Jeffrey Remedios, Dave Harris, Naveen Prasad and Jeremy Smith. The screenplay was penned by Baichwal and de Pencier.
Correction: an earlier version of this story stated that the TIFF world premiere of Long Time Running was Sept. 12, when in fact the film makes its world premiere on Sept. 13. Playback regrets the error.