Distributors' TIFF-lists
Execs from eOne, Raven Banner and Elevation dish on what they're looking for at this year's fest.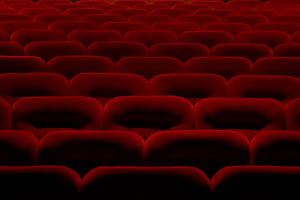 It's that time of year again when the film industry's collective attention is fixed firmly on Toronto. And while TIFF has no formal market floor, new projects will be set in motion, new partnerships forged and high-profile deals finalized. Playback caught up with Elevation Pictures, eOne and Raven Banner to chat about what they're looking for, trends they've identified in the market and the role that TIFF plays in their yearly calendar.
Michael Paszt, managing partner, Raven Banner Entertainment
What type of films are you hunting for?
We're on the hunt for films that fit our brand. Whether it's for Raven Banner or Northern Banner – we're looking for unique, director-driven films with a dark, eclectic taste. For us, most of our pickups involve checking on performance of similar titles – but at the end of the day, we try to acquire on gut instinct. We're genre fanboys first and foremost.
We acquired The Autopsy of Jane Doe (Impostor Pictures, IM Global, 42) before it got into TIFF Midnight Madness last year. The whole team loved the film and we knew we wanted it. We started to run the numbers based on what we thought would be comparable films like Oculus, Green Room, It Follows and The Babadook [released by other distributors]. We looked at how those films performed and then placed our expectations at the very low end. We made an offer gambling that it would get into TIFF and it paid off.
L.A.-based XYZ Films have a couple of films in the Midnight Madness category that are really cool – Brawl in Cell Block 99 and Mom and Dad are definite must-sees.
Any genres/types of content that you are looking to delve further into?
We're looking for more [horror]-themed documentaries, which have definitely come into their own. Films like The Nightmare, Why Horror?, 78/52, Room 237, Doc of the Dead, Jodorowsky's Dune and Untold Horror [all previously released]. We'd love to get more involved with these stories.
How important is the TIFF audience reaction to your purchasing decisions?
It really doesn't matter at all. In fact we barely see any films during TIFF with an audience. We try not to get "festival fever" and become intoxicated with a film. We try to screen content at previous markets or TIFF industry screenings. For us, TIFF is the launch of the fall season. It's the first stop on the festival circuit for sales and acquisitions with at least twenty other festivals playing right after and that takes us into AFM and the holidays.
Does the fact TIFF has reduced its roster by approximately 20% have an impact on your acquisitions?
It affects us primarily with the loss of the Vanguard program, which we feel was a mistake. A lot of great genre films that didn't quite make the Midnight Madness cut ended up in Vanguard, so it's a shame because we lost a great place that would showcase these dark avante-garde films. But while it's sad that an A-list festival has dropped a great program, there are plenty of other A-list genre festivals, including Fantasia, Fright Fest UK, Fantastic Fest, Sitges, Fantasy Filmfest Germany, Mórbido Mexico and Brussels International Fantastic Film Festival.
Christina Kubacki, senior director of acquisitions, eOne
What type of films are you looking to acquire?
We're looking for films that will bring audiences out to theatres. With so much competing for audiences' time and money these days, it's a special film that will break out and become "must see" on the big screen. More than ever, we're hoping to find films that can work across our footprint [in territories where eOne distributes directly: Canada, U.K., Australia, New Zealand, Spain and the Benelux region] so that we can acquire multiple territories. It gives us a bit more weight in the marketplace and there's obviously a lot of benefit to having more than one territory working on a project – sharing materials, costs, information, and intelligence in terms of how markets are perceiving it.
TIFF is certainly competitive [for titles] comparable to Cannes or Berlin.
What is your sense of the market?
I think distributors are trying to work out where on the spectrum they belong [in terms of theatrical releases versus day-and-date/ancillary releases]. The economics are very different. With the proliferation of distribution models, there's a lot of ways you can reach consumers, and the big part is trying to figure out whether it's one end of the spectrum or somewhere in the middle – there's no black and white answers anymore. For eOne though, our goal is proper theatrical titles.
What trends do you expect to see at this year's TIFF?
I think we're all going to be reminded of the importance of the arts and artists' voices in challenging times. With so much unrest in the world, there's a lot of opportunity for artists to speak out, and they have a really important role to play. This is a little separate from the business side, but I have no doubt this will be a really big theme at TIFF – both on stage before and after screenings, and certainly on screen.
Tell us about acquisitions you've made at TIFF in recent years?
We closed on a film at last year's TIFF called The Children Act [a political thriller based on the novel of the same name by British novelist Ian McEwan, produced by New York-based FilmNation Entertainment], which is premiering at this year's festival. What attracted us to the title was that it's for a sophisticated, older movie-going audience that we know reliably comes out to TIFF.
We also acquired a Canada/Denmark copro a couple of years back called Backstabbing for Beginners (Parts & Labor, Creative Alliance, Scythia Films). That's not the norm for Canadian projects – usually we have those discussions outside of the market. They'd put together a good package, there was some great talent attached (Theo James, Ben Kingsley) and it's a timely and topical political thriller. The film is complete and we're working on the next steps now.
How important is the TIFF audience reaction to your purchasing decisions and what role does the festival fill in your schedule?
The audiences in Toronto are well educated and quite vocal – those are all positive things. But it's always important for us to step back from a screening and "festival fever" in order to stay objective when evaluating a film. It's just one piece of a large puzzle. Many of the pieces, such as what the competitive landscape is closer to the release date, will not reveal themselves until later on. But TIFF is one of our primary acquisition opportunities for the year (along with Cannes, Berlin and the American Film Market). On the distribution side, it's a great launch pad for our prestige titles, such as Stronger [the Boston Marathon drama starring Jake Gyllenhaal and Tatiana Maslany], that will go on to release in the subsequent months – typically a very busy time for us.
Noah Segal, co-president, Elevation Pictures
What types of films are you looking to acquire?
We release about 30 films theatrically a year. I think we're likely to come out of TIFF with a couple of films – we usually do. It's always hard to nail down the Elevation mojo as we're somewhere between Bleecker Street and A24 and then once in awhile we do something outrageously commercial like Mother's Day. We're quite comfortable in the indie space, which caters to an adult audience 35 and up, but we do like edge as well. Going into TIFF we'd love to find another film like (Robert Eggers') The Witch or (Brett Haley's) I'll See You In My Dreams.
What's your sense of the market?
Well-financed OTTs are capturing a piece of what formerly was the middle-range picture for the studio, and that's completely affecting the ecosystem. It's now become harder to finance films the classic independent way where you would take a script to market and get a bunch of pre-sales. People are increasingly trying to find projects they can get financing for from private equity and then come to market and hopefully they get a massive sale with one of the OTTs. Or they're trying to find something that's going to just wow people. [A good film] just isn't good enough anymore. It's got to be great. We used to be able to buy films that were good and wait and see. Now that's not enough.
Plus, just as you're seeing broadcasters talking about how they have to create a brand and an identity through the product they show, so does the distributor. You're seeing how Disney is winning the day on the studio side by typifying a certain kind of content they're releasing whether it be Marvel, Pixar or Lucasfilm. They've established the brands. Blumhouse has established a brand for Universal. That's what's happening globally, and that's what's going to get big at festivals. So middling films aren't going to make it. And that's sad because it makes it pretty much an all or nothing kind of business.
How important is the TIFF audience reaction to your purchasing decisions?
TIFF works for us on two levels. It's a people's festival and it's a local festival. Granted TIFF audiences are a little too kind, but that said, it's still a great way of identifying local public appetite depending on how audiences respond to a film at the festival.
For example, we saw [California-based Mike Flanagan's] Oculus at TIFF in 2013 and bought it just afterward. We saw that it was commercially centred, a [horror] genre film, but it has a director who has real chops, and we got to see how the consumers reacted. If you see a film like that at Cannes, it's more auteur-driven, it may not be the exact same kind of cinema you're going to get back home. TIFF allows you to make a great buying decision.