Killjoys renewed for two final seasons on Space, Syfy
Meanwhile Dark Matter was not renewed for a fourth season.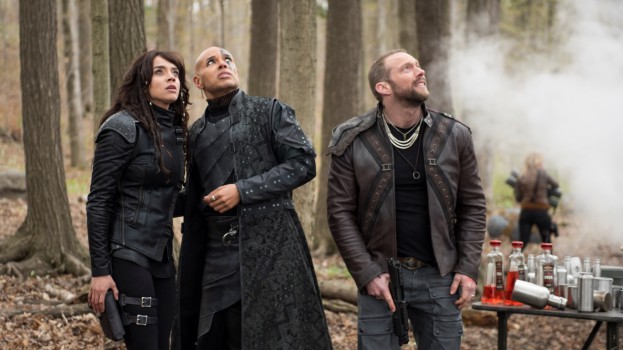 Sci-fi drama Killjoys has been renewed for two additional seasons, with production on the fourth season set to begin in Toronto later this year.
Bell Media's Space channel confirmed the 20-episode renewal (10 episodes per season) at Fan Expo Canada on Saturday, ahead of the season-three finale. The fifth season will serve as the final chapter for the series.
Created by Michelle Lovretta (Lost Girl), Killjoys is produced by Temple Street, in association with Space and Syfy, and follows the adventures of a trio of intergalactic bounty hunters. Executive producers are David Fortier, Ivan Schneeberg, Karen Troubetzkoy and Lovretta.
The announcement came on the same day it was announced that Dark Matter had been cancelled by Syfy after three seasons. Co-creator Joseph Mallozzi confirmed the cancellation in a post on his blog. Produced by Prodigy Pictures, Dark Matter tells the story of six people who wake up on a deserted spaceship with no recollection of who they are or how they got there.
In Canada, both Killjoys and Dark Matter had posted impressive ratings for Space. The series, which were part of the same programming block on Space in Canada, drew audiences of 444,000 and 448,000 when they returned for their respective season-two premieres last summer.